Estimated read time: 2-3 minutes
This archived news story is available only for your personal, non-commercial use. Information in the story may be outdated or superseded by additional information. Reading or replaying the story in its archived form does not constitute a republication of the story.
Sandra Yi ReportingOne Pleasant Grove high school teacher has received a national recognition of a lifetime, one that comes with a check for 25 thousand dollars.
The Milken Educator Award is known for catching teachers off guard. The recipients don't know who they are until their name is announced during a school assembly. This year's award winner said he wasn't even planning on being there today.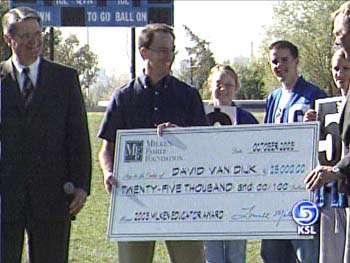 It was a big surprise for an unsuspecting teacher, whose dedication to the job literally paid off.
David van Dijk, Award Recipient: "I don't even dream of this much money so I have no idea what I'd even do with this much money."
David van Dijk is one of only 100 teachers across the country to win the award this year. He received a check for 25 thousand dollars. He shared the moment with his wife.
Julie van Dijk: "I really do think my husband is deserving of this award. He is so dedicated to teaching. It is his love."
van Dijk has taught biology at Pleasant Grove High School for eight years and is currently on leave to help set up a new science education program at BYU. Former students say their teacher's passion for the job is inspiring.
Lynn Ann Preece: "You can tell that he really cares about you. He's wonderful."
Erin Tueller: "You can tell that he cares a lot about the subject he teaches."
van Dijk says his hope is to improve lives and make a difference. And today his dream didn't go unnoticed.
David van Dijk: "I've said before that mankind is our business and I think it's a good business to be in."
Award recipients are nominated and chosen for their accomplishments and dedication in the classroom. van Dijk says he isn't sure what he'll do with the money, but it should come in handy as he just bought a new house for his family, which includes four children.
×
Most recent Utah stories