Estimated read time: 2-3 minutes
This archived news story is available only for your personal, non-commercial use. Information in the story may be outdated or superseded by additional information. Reading or replaying the story in its archived form does not constitute a republication of the story.
Ed Yeates ReportingNew technology, some on display for the first time in Salt Lake, is taking the "dirty" out of radiation therapy.
Physicians were impressed watching demos of new machines that find and hit their targets with little or no collateral damage. The largest gathering of radiation oncologists in the world is here in Salt Lake for it's annual meeting. And with them here are companies showing off the latest in cancer killers.
The "Varian" machine looks like something out of a sci-fi movie, but it's very real in seeking out and destroying the enemy. On one robotic arm is an X-ray tube. On the other is a digital imaging panel. Combine the two with a linear accelerator that rotates around the body, shooting beams of radiation in any direction, all focused exactly on the tumor. The radiologist can find, isolate, position and shoot the target all from one machine.
More automation, more robotics means less radiation, but more precision in hitting the target, and less collateral damage to the patient.
Dick Levy, CEO, Varian Medical Systems: "For example, for head and neck cancer, people have found this kind of treatment can reduce the effects of dry mouth, where the salivary glands are destroyed."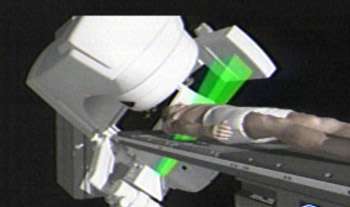 The same is apparently true for prostate cancer. The radiation hits its target precisely with fewer complications and less damage to the rectum or bladder.
Even more remarkable, because the machine can track the cancer on a daily basis the tumor can't hide by moving, which they often do.
Patrick Swift, M.D., Alta Bates Comprehensive Cancer Center, California: "From day to day, there can be movement from up to a couple of centimeters in a location of a tumor in different parts of the body."
Varian's machine won't be on the market for another six months. A similar one, made by Elekta, is already in use abroad and in some parts of this country.
Also today, radiologists heard more about Brachytherapy, which we reported on earlier this year. Now offered on a limited basis in Salt Lake, it targets breast cancer in treatments that last only five days.
Radiologists are scheduled to hear a two year progress report on MammoSite tomorrow. It apparently looks very effective in the treatment of breast cancer.
×
Most recent Utah stories