Estimated read time: 2-3 minutes
This archived news story is available only for your personal, non-commercial use. Information in the story may be outdated or superseded by additional information. Reading or replaying the story in its archived form does not constitute a republication of the story.
Carole Mikita ReportingThirty seven area pastors stood together in a show of solidarity for those they call their 'Latter-day Saint brothers and sisters' today. They came to protest so-called street preachers who, they say, engage in profane acts.
Today's gathering is in response to what happened during General Conference weekend, for The Church of Jesus Christ of Latter-day Saints. The ministry leaders are speaking out against what they call a desecration. The pastors say they are uniting to denounce the actions of individuals who call themselves "Christian Evangelists", and who they say, used hate and discrimination in their use of garments, held sacred by Latter-day Saints.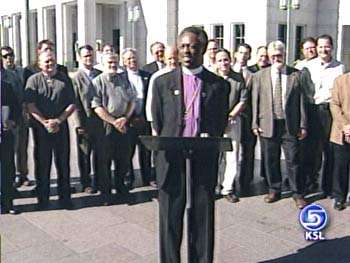 Rev. Willie Dunn, Worldwide Gospel Church: "I would like to say to those of my friends, and I have a lot of them, in the Church of Jesus Christ of Latter-day Saints, we love you and we stand with you. We may have some differences, but this is not the way to solve those differences."
Pastor Dunn is referring to demonstrations in front of the Conference Center. Street preachers, who call themselves Evangelicals, were displaying Latter-day Saint temple garments, even ripping apart Books of Mormon, both considered sacred materials.
In a show of solidarity more than 30 Evangelical ministers from throughout the Salt Lake Valley denounced those actions.
Rev. C.V. Johnson, Standing Together Ministries: "The individuals who profanely used the Mormon garments to mock and ridicule the Latter-day Saint community in ways too egregious to mention, owe an apology to the Mormon community. And we call upon them to repent publicly of their activities."
The pastors say this is not about free speech or right to protest, but how one does it in the name of Jesus Christ.
Rev. Mike Imperiale, First Presbyterian Church: "They say they're Christian evangelists sharing the good news of Jesus Christ, but are doing it in a way that is so hurtful and harmful we just can't sit by and be silent."
In response, the Church of Jesus Christ issued this statement:
"We are grateful to Rev. Gregory Johnson and his associates, for their considerate and timely expression noting the importance of religious tolerance in our community. We agree that religious differences should be discussed 'with gentleness and respect' to avoid needless offense to others."
The message was one of friendship; they pledge to stand with Latter-day Saints in future times like these.
Willie Dunn: "We pray god's blessings upon you and what you do for the community and the entire body of Christ, god bless you."
This now formal association of evangelical pastors says it will gather from time to time to speak publicly on matters that are important to the community.
×
Most recent Utah stories