Estimated read time: 1-2 minutes
This archived news story is available only for your personal, non-commercial use. Information in the story may be outdated or superseded by additional information. Reading or replaying the story in its archived form does not constitute a republication of the story.
Jill Atwood ReportingSome of the shelves at the Utah Food Bank are empty, but that won't stop the food requests from pouring in. The Utah Food Bank is hoping the people of Utah will dig deep once again and donate to those who may be a little down on their luck this holiday season.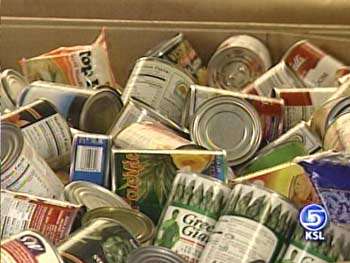 It only takes a minute look in your pantry. Maybe you have an extra can of soup or a can of tuna fish. If it won't spoil they'll take it.
Today the food bank received a huge drop-off courtesy Snowbird resort -- over 5600 hundred pounds of food to kick off this year's drive.
Dave Fields, Snowbird: "How it works is people come up and give a can of food they can ride the tram for free. People expect it every year now and it's a lot of fun to ride up to hidden peak."
But there is a lot of room for more food still.
Jean Nielsen, Utah Food Bank: "We see people that were in here volunteering that our now on the other end getting food this year. So we are seeing a lot of people that haven't previously needed help."
In fact economists tell executives of the food bank they'll need 1.8 million pounds of food this holiday season just to keep up with demand. Last year their goal was only 1.6 million. But it's a goal the workers believe is highly attainable.
It's also time for turkey donations. Their goal is 22-thousand turkeys this year.
×
Most recent Utah stories