Estimated read time: 2-3 minutes
This archived news story is available only for your personal, non-commercial use. Information in the story may be outdated or superseded by additional information. Reading or replaying the story in its archived form does not constitute a republication of the story.
John Daley ReportingAlthough it's almost November and the official fire season is essentially over, a wildfire is burning right now in Davis County. The blaze is in Shepard Canyon in the hills above Farmington and Fruit Heights.
This smoky fire has been visible from miles away--both at day and night--because of it's high in the hills. 70 firefighters and air support were called out to Shepard's canyon today to fight this fire, which broke out a little after nine last night.
The roughly 20 to 30 acre fire is burning at about eight thousand feet above Farmington and Fruit Heights in a steep area of thick, dry brush. Because of winds coming down the canyon Forest Service officials are keeping a close eye on this fire in case it grows and spreads quickly.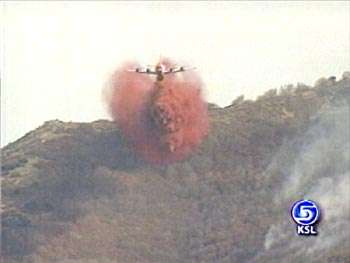 A look at month-by-month average temperatures in Utah over the past year compiled by the National Weather Service, shows that every month since last December has been warmer than normal. And for the past year temperatures registered at 2.6 degrees above the normal annual average. Those higher than normal temps, combined with dry weather, are making for unpredictable conditions.
Kathy Jo Pollack, Interagency Fire District: "We've had really different fire behavior this year on each of the fires. Fire activity during the night, fires usually lay down during the night because it's cooler and we don't have the fire activity, but we've had 10, 20, 30 foot flame lengths off of brush at 1:00, 2:00, 3:00 in the morning. So it's very unusual. And it shows how dry the fuels are."
Right now this blaze is at least two to three miles from any homes or structures. Obviously folks who live nearby are watching this closely--after having a big wildfire very near here in Farmington Canyon earlier this year. Forest service officials are hoping they can get this fire under control in the next few days.
×
Most recent Utah stories