Estimated read time: 2-3 minutes
This archived news story is available only for your personal, non-commercial use. Information in the story may be outdated or superseded by additional information. Reading or replaying the story in its archived form does not constitute a republication of the story.
Shelley Osterloh ReportingThe Church of Jesus Christ of Latter-day Saints has teamed with an African relief organization to provide thousands of tons of food for the starving people of Ethiopia.
The food item volunteers here at the Welfare Square Milk Plant are producing is called 'atmit.' Just two Tablespoons of it can be a meal for a hungry child.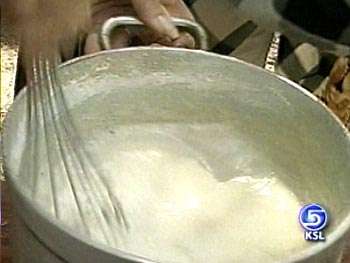 Marta Gabre Tsadick and her husband Demeke Tekle Wold are Ethiopians who 28 years ago were refugees themselves. They founded Project Mercy, an international relief ministry to help the nearly 13-million Ethiopians who are in need of emergency assistance because of a multi-year drought.
Those who are severely malnourished can't digest regular food so they are given a kind of vitamin fortified milk and oat product called atmit. Marta and husband visited the Church's Milk plant to assist in the production and thank those who are supplying it.
Marta Gabre-Tsadick, Exec Dir. Project Mercy: "And I want them to know, they are not feeding people, they are saving lives. Without atmit thousands of children would have died, and elderly would have too."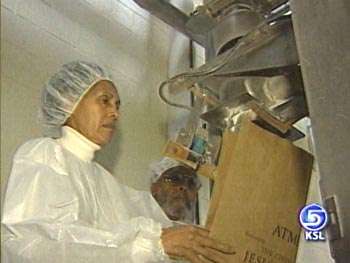 The Church will provide some 560 tons of atmit, expected to feed more than a half million people. That's in addition to another food supplement called Unimix, a kind of gruel --- in all some 10-million pounds of food assistance. Church Leaders say the Church is always concerned when there is suffering in the world.
Garry Flake, Dir. Welfare Dept. of Church: "So when there is a situation like Ethiopia where there are more than 13 million people and they are really on the brink of starvation, we ought to reach out, we ought to help."
Project Mercy also has programs to improve education, work skills and economic development. But the first step, they say, is to stop the starvation.
×
Most recent Utah stories