Estimated read time: 2-3 minutes
This archived news story is available only for your personal, non-commercial use. Information in the story may be outdated or superseded by additional information. Reading or replaying the story in its archived form does not constitute a republication of the story.
Kim Johnson ReportingHalloween is just a "witch's broom" away and trends show that Americans are decorating more for this ghoulish occasion than any other, except Christmas. Kim Johnson visited a local artist who makes a good share of her living selling wares inspired by this spooky pagan holiday.
Ghosts, goblins, ghouls, and gourds. Halloween is "gourd season" at Jeni Gochnour's house. They come from a farmer's field in Mississippi, but when they arrive at Jeni's home in Holladay, ordinary "gourds" become "extraordinary" works of art.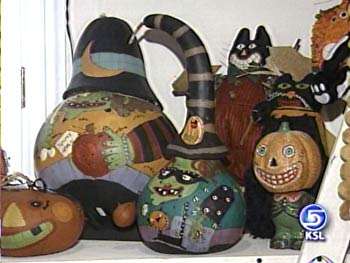 As far as Jeni Gochnour knows, she's the only Utah artist who's ga-ga over gourds. She affectionately calls her creations "Gochnour's gourds."
Jeni Gochnour, Artist: "It's two g's, it's perfect. I like when you shake them you have the seeds going. They don't break. I just really love 'em."
And she loves Halloween. With paint and a brush, Jeni begins the process of transforming a gourd into a playful pumpkin or a whimsical witch.
Jeni Gochnour, Artist: "I just love thinking about what she'd want to be wearing today and holding, and what she'd be doing. So yeah they're my friends, my girls and I love seeing them go to homes I care about."
When the paint has dried Jeni carves detail and Picasso-like personality into the gourd with a wood burner. Seven or eight hours later a witch is ready to be 'antiqued" with a coat of shoe polish. Jeni adds painted nails, for texture. Other final touches might include a skeleton purse crafted from a baby gourd.
No two pumpkins or witches are alike, but all of Jeni's creations have one thing in common -- they all have artwork on the back. Jeni says her art is a 360 degree expression.
From August to January, Jeni Gochnour can be found hiding out behind her living room couch listening to books on tape and working wonders. She says it's the perfect work space for a busy mother of five.
Jeni Gochnour, Artist: "I have to leave my stuff out, and my kids have to be able to be by me all the time. I have to run up, I paint for five minutes and then run to go do carpool, come back."
And she says she pulls several "all-nighters" when she's free from distraction. It's an artistic obsession for five months of the year.
Jeni Gochnour, Artist: "I have to do it. I think about it. I wake up in the night with ideas, and so it's part of who I am. I have to discipline myself to go fix dinner and go and do the things I'm supposed to. I would love to listen to my book on tape and paint all day."
Jeni just started creating witches last year and they've been a huge hit. The minute she's finished creating one, it seems to fly off.
To contact Jeni Gochnour, email her at gochnour@connect2.com.
×
Most recent Utah stories