Estimated read time: 2-3 minutes
This archived news story is available only for your personal, non-commercial use. Information in the story may be outdated or superseded by additional information. Reading or replaying the story in its archived form does not constitute a republication of the story.
Jed Boal ReportingGovernor Leavitt is headed for Washington to head the Environmental Protection Agency. But there's a lot of unfinished business in Utah he intends to tackle in the week ahead.
The Senate overwhelmingly confirmed the Governor's nomination this morning; he leaves for Washington next week. Lt. Governor Olene Walker will take over the state's top office, but the Governor has an ambitious agenda before he sets his sights on national environmental policy.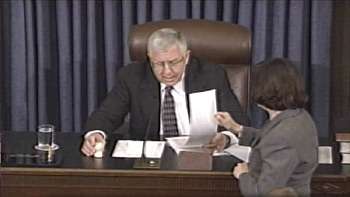 Mixed emotions today for the Governor. He looks forward to the contribution he can make on national environmental policy, but has to leave the state he loves and the job he loves.
In about a week Governor Mike Leavitt will be gone, sworn in as the new head of the Environmental Protection Agency. Flanked by his wife Jackie the governor today hinted at the challenges ahead putting the President's environmental programs into place.
Governor Mike Leavitt: "The president has an environmental record that I'm proud of and pleased to be joining. I'll be doing all I can to put that record into the most positive light possible."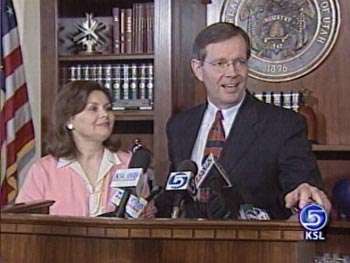 Before the vote critics in the Senate cited concerns about Leavitt's environmental record in Utah and accused him of turning his back on wilderness. But Sen Orrin Hatch finished the debate.
Sen.Orrin Hatch, (R) Utah: "The record is clear. Mike Leavitt is a champion of the environment, and widely recognized as one of our nation's top public managers."
The coming days will involve physical moves and legal transitions.
Governor Mike Leavitt: "There are many many thoughts in my mind. I'm a schmorgasboard of emotions. I'll simply have to deal with each one of them as they pop out of that mix."
Tomorrow the Governor offers a proposal to end a long-running dispute on rural roads in federal lands. In following days, he'll address the Worker's Compensation Fund, endorse the Performance Plus education initiative, and meet with staffers and political allies.
Monday, he'll address the people of Utah for the last time as Governor. That address will be televised on KSL.
Next Wednesday, he'll sign the transition documents and Olene Walker will be sworn in as the 15th Governor of Utah. Leavitt says he will talk about the future job later, but says job one is to marshal the support of the 18-thousand EPA employees.
Governor Mike Leavitt: "I feel confident they will receive me as their colleague and leader. I'll work hard to gain their trust and confidence."
Initially he'll split time between Washington and Utah. Also, he is not ruling out the possibility of seeking further office in Utah.
×
Most recent Utah stories