Estimated read time: 2-3 minutes
This archived news story is available only for your personal, non-commercial use. Information in the story may be outdated or superseded by additional information. Reading or replaying the story in its archived form does not constitute a republication of the story.
Carole Mikita ReportingThe much publicized book about the Elizabeth Smart kidnapping and rescue is now in Utah bookstores and available on the Internet, and Ed and Lois Smart are still making the rounds on national media.
Ed Smart: The whole situation has been bigger than we ever guessed that it would be..."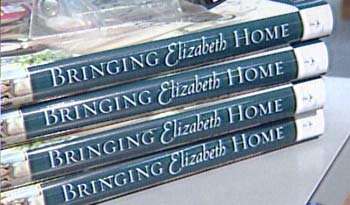 The media blitz goes on. Ed and Lois Smart are in New York for a book signing and talked again today with Katie Couric. They admit some are questioning their motives.
Ed Smart: "You know, I don't think that' we've tried to put her in harm's way in letting anyone discuss what the ordeal of the nine months were. And you know, at some point, she may or may not decide to say something about that."
Meanwhile, back at home Deseret Book had a one-day advantage over the other stores in town, selling 'Bringing Elizabeth Home'. Managers here say sales are off to a good start.
Brian Barrett, Book Buyer: "I thought it would be an interesting story to read and really happy about the way it turned out in the long run. So it was a scary time for them and glad it worked out fantastic."
Jim and Linda Sheffield from Golden, Colorado just returned from Mississippi where he was an LDS mission president; they followed the Smart story.
Jim Sheffield, Book Buyer: "We saw it on TV. We were dismayed at what happened and touched by all the positive support that the smart family received."
Linda Sheffield, Book Buyer: "People knew that they were LDS, so that when our missionaries knocked on the doors, they were always asked if they knew them or if this is what real LDS people were like."
The book has already hit number 15 on Amazon.com's website. Customer reviews are mixed.
Reader from Connecticut: "First, and most obviously, this book is the result of parents capitalizing on their daughter's ordeal. Why?"
Reader from New York: "This book will enlighten, inspire and bring you closer to the ones you love."
The Smarts say the book is simply their chance to 'set the record straight' on what happened to Elizabeth.
×
Most recent Utah stories