Estimated read time: 2-3 minutes
This archived news story is available only for your personal, non-commercial use. Information in the story may be outdated or superseded by additional information. Reading or replaying the story in its archived form does not constitute a republication of the story.
Keith McCord ReportingIt's certainly not unusual for an expectant mother or her husband to call 911 when the baby is on the way. That happened early this morning in West Valley, but the baby was in a hurry so the 911 dispatcher coached dad over the phone.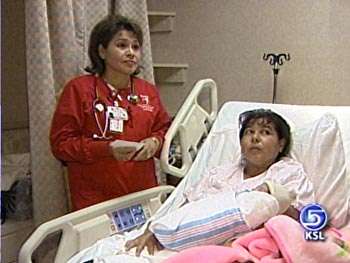 It all started about three o'clock this morning when Eduardo Torrez called 911 telling the dispatcher that his wife, Teresa, was going into labor. The fire department was notified, but the baby was already on the way.
Say hello to Perla Faviola Torres born at six pounds, 14 ounces. Her mom Teresa, dad Eduardo and 3-year old Emily complete the happy family after little Perla's birth early this morning. But her arrival was pretty nerve wracking!
Dispatcher Bona Rowsell discovered that Teresa was going into labor in the bathroom. So she gave Eduardo a few instructions.
911 Dispatcher: "I want you to get some dry towels... and a blanket to wrap the baby in. "
Teresa, who speaks only Spanish, told her nurse Vilma Nye that contractions were getting more frequent.
Vilma Nye, Nurse: "I was sitting on the toilet, and when i felt that the baby was coming, so I got up and I kneeled down on the floor."
Paramedics still hadn't arrived and Eduardo told the dispatcher that they weren't going to make it in time.
Dispatcher: "I want you to get a string or shoelace to tie around the umbilical cord after the baby is born, ok?"
EDuardo: "The baby's born already."
Dispatcher: "The baby's born?"
All 21-inches of her! Perla arrived in less than a half-hour. Eduardo admits he was nervous during the delivery, and hopes he never has to do that again!
Eduardo Torres: "I don't want to, but if I have to do it, I'd do it!"
Mom, baby and everyone else is doing fine, and they'll go home tomorrow. We tried to speak with dispatcher Bonna Rowsell today, but since she was working the graveyard shift, she's been asleep all day.
×
Most recent Utah stories