Estimated read time: 2-3 minutes
This archived news story is available only for your personal, non-commercial use. Information in the story may be outdated or superseded by additional information. Reading or replaying the story in its archived form does not constitute a republication of the story.
Scott Haws ReportingIn an instant one man's world was turned upside down. His wife was killed when their house exploded. Now, for the first time, Greg Roper is sharing his pain but extending his gratitude.
Considering what he's been through the last few days, he's doing OK. Greg shared some very intimate and difficult memories and thoughts with me tonight.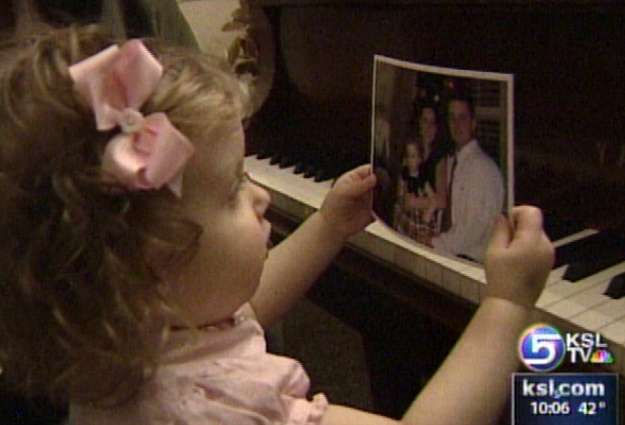 Last Monday, the night before his wife was killed, the two were talking about having another child. Now Greg is making funeral arrangements. And while he has an amazing support system of family and friends, the one thing he says that is pulling him through his darkest hours is his little ray of sunshine, Olivia.
Greg Roper: "We lost a lot and we can only think of how grateful we are to have this little one to remind me of April. She's all I've got left of her."
A photo from father's day, April's favorite string of pearls, they're the charred treasures Greg Roper now clings to more than ever.
Greg Roper: "We loved being married, we wondered why people didn't get married sooner because we had such a good time together. It's hard at night. I hate to sleep alone. I always loved having her there at my side."
But Greg knows he's not alone, and that's why he felt it was important to publicly express his gratitude.
Greg Roper: "There's people everywhere that have really done nice things for us, and I'm grateful for them. I know, I've been on the other side and wanted to help other people, and I think I owe it to them to let them do things."
One thing that Greg wanted to make sure we passed along is the information for April's viewing and an open invitation to anyone who would like to come. The viewing is Sunday night, and her funeral is Monday morning.
Greg has been amazed at the outpouring of love. People have been donating clothes, since he and Olivia only had the clothes on their back. Even companies like T-Mobile are stepping up saying, "Don't worry about going over on your cell phone minutes; we'll take care of it.
Viewings:
Larry Radford:
Today from 6 to 8 p.m. at the Anderson and Sons Mortuary in American Fork.
April Roper:
Sunday, February 11, 2007 6-8 p.m.
Walker-Sanderson Funeral Home 800 North, Orem
Roper Funeral
Monday, February 12 11 a.m.
800 South in Orem (near Costco)
×
Most recent Utah stories