Estimated read time: 2-3 minutes
This archived news story is available only for your personal, non-commercial use. Information in the story may be outdated or superseded by additional information. Reading or replaying the story in its archived form does not constitute a republication of the story.
Richard Piatt reporting The Salt Lake City Mayor's race is getting down to the wire: By tomorrow night, we'll find out who will come out on top in one of the hardest-fought races in the state this year.
Recent polls show Rocky anderson and Frank Piganenelli in a statistical dead heat.
The candidates both know some key things that have to happen for them to win: And first among those is who turns out to vote.
Both Frank Pignanelli and Rocky Anderson are talking to as many people as they can. That includes forums like this one on KSL radio today.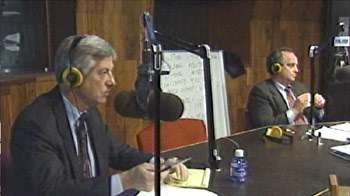 While they debate the issues, they're conscious of things like the weather---that could hurt turnout. Both are concerned about support from voters who picked Molonai Hola in the primary. And: Whether city employees will turnout to vote. Both are also conscious of what they say in the final hours---like this morning on Eyewitness news today.
Frank Pignanelli/Candidate for Salt Lake City Mayor: "That's the kind of Mayor I'll be. We'll go out and accumulate all the ideas and suggestions not only the ones we've just received during the campaign but that we'll have the first few months of the administration and together we'll develop a vision and a strategy to solve all the problems. I believe in Salt Lake City and I believe in the ability of businesses and residents to come together"
Rocky Anderson/Salt Lake City Mayor: "It has been because of the leadership and the amazing team that we have put together in SLC government these last four years that we have been able to create such tremendous momentum the kind of momentum that brought employment review magazine to the point of ranking us one of the top ten cities in the country to live and to work.
The candidates are spending the day doing their own thing. Their final debate before election day will be tonight on public radio station KCPW.
×
Most recent Utah stories