Estimated read time: 1-2 minutes
This archived news story is available only for your personal, non-commercial use. Information in the story may be outdated or superseded by additional information. Reading or replaying the story in its archived form does not constitute a republication of the story.
Sammy Linebaugh ReportingA blustery day with howling winds -- definite jacket weather if you venture outdoors. But for the kiteboarder, it's exactly the weather you want.
The pros call it windsurfing on steroids--wakeboarding without the expense of buying a boat. The key they say is simply learning to steer.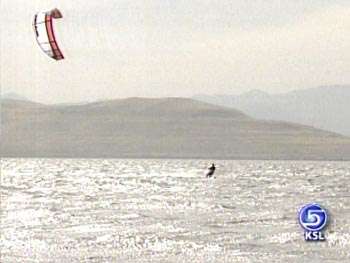 Mike Rosseberg, Kiteboarder: "It's probably about 80 percent kite control, because in wakeboarding you're just worrying about where the boat's going, but here you've gotta drive the boat too."
It's a self-contained water sport without motors or rudders, only reigns tethering the boarder to a kite anywhere from three to 25 square meters in size, depending on the day's winds and experience level.
Derik Sayers runs Utah Kiteboarding and on this blustery afternoon at Utah Lake he's holding kiteboarding kindergarten.
Before heading for the water, each student has completed a dry land training course, where they learned the basics of how to maneuver the kite before strapping on the wakeboard.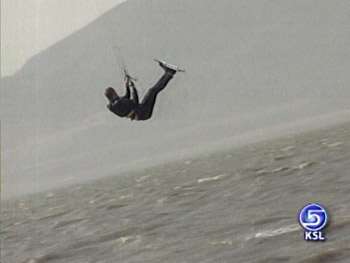 Derik Sayers: "It only takes the average beginner between six to eight hours before they can actually stand up and start riding the board."
For most first-timers, the first adventure is enough to wet the appetite and get a taste of what could be.
Randy Larsen, Kiteboard Beginner: "What do we think? Scary. A lot of power, but that's the most fun I've had in a long time."
The cost of a kite, harness and wakeboard runs anywhere from one to three thousand dollars. Mike Rossberg also factors in those unexpected days off work...
MIke: "You definitely have to plan your sick days in advance..."
After all, he says, it's up to Mother Nature exactly when the wind will blow.
You can also kiteboard on snow; just trade that wakeboard for a snowboard.
×
Most recent Utah stories