Estimated read time: 2-3 minutes
This archived news story is available only for your personal, non-commercial use. Information in the story may be outdated or superseded by additional information. Reading or replaying the story in its archived form does not constitute a republication of the story.
Sandra Yi ReportingHere's a story that's sure to warm your heart on a cold day. It's about a dog whose love means everything to many who have next to nothing.
It's a place that has gone to the dogs, well just one dog, named Truman.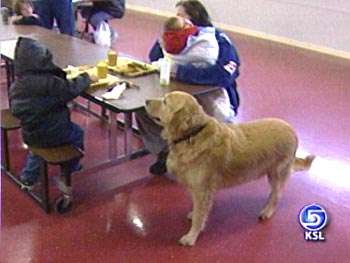 Jim Upton, Truman's Owner: "As soon as we walk on the property people are hollering for him from the sidewalk. We'll drive down the street and everybody will be hollering, 'Hey Truman, Hey Truman.'"
Truman's owner, Jim Upton, is a program coordinator for Catholic Community Services, a homeless outreach program in Salt Lake City. Upton first brought Truman here a year ago. Since then the Golden Retriever has quickly become everybody's dog.
Jim Upton: "Before I knew it, when I didn't show up with the dog, everybody's saying, 'Where's Truman?' I mean I can take a few days off, but if Truman doesn't show up, they want to know what's going on."
Cecil Estep: "He's here everyday, takes care of the place. We just love him. He's part of the family."
Truman spends a few hours a week with the kids in the Head Start Program. Their teacher says Truman works wonders, showing kids how to love and be loved. That's Truman's appeal to the adults as well, because with Truman it doesn't matter who you are.
Jim Upton: "I personally believe it's because it's really unconditional love. No judgments, no incrimination. He just loves everybody."
And his friends are grateful. Most of them are homeless, yet they'll spend what little extra money they have to buy Truman toys and treats.
Jim Upton: "He also gets Christmas cards every year. His name is normally first--Truman and Jim."
Now that's puppy love.
Truman is a certified therapy dog. He and his owner also visit nursing homes and camps for special needs kids.
×
Most recent Utah stories