Estimated read time: 2-3 minutes
This archived news story is available only for your personal, non-commercial use. Information in the story may be outdated or superseded by additional information. Reading or replaying the story in its archived form does not constitute a republication of the story.
SALT LAKE CITY (AP) -- Mayor Ross C. "Rocky" Anderson won re-election to a second term Tuesday, defeating challenger Frank Pignanelli by a wider-than-expected margin.
With 100 percent of the votes counted, Anderson had 54 percent to Pignanelli's 46 percent.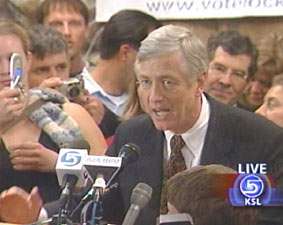 Around 11 p.m., Anderson declared he'd won, and supporters surrounding him at his victory party at the Jewish Community Center shrieked and chanted, "Rocky, Rocky, Rocky" and "Four more years."
"We never could have pulled this off, we couldn't have come close, without the hundreds of unbelievable volunteers, some of them out there every single day. This truly has become family," Anderson said.
Acknowledging that "differences in style" -- Anderson's critics say his combativeness creates divisions between the capital city's Mormon minority and its other residents -- Anderson said he would do better.
"No matter what our differences, our similarities are so much greater ... and I take my responsibility as mayor very seriously in trying to make sure we all keep our eye on our common goals," he said.
At the much quieter Pignanelli election party, the challenger bounced one of his toddler twins on his hip as he encouraged his supporters to work with the mayor and City Council to achieve the goals he had set during his campaign.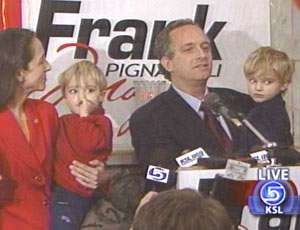 Anderson's win slightly exceeded results predicted by two exit polls, one by Dan Jones and KSL-TV, the other by students from Brigham Young University and Utah Valley State College, that showed Anderson favored 53 percent to 47 percent.
Anderson's campaign coordinator, Sheryl Ivey, said election volunteers worked hard to get out the vote. When they called known Anderson supporters, she said, many assumed Anderson's victory was clear.
But it wasn't. Right up to the time the polls opened, the election was a dead heat, according to voter surveys published in both capital city daily newspapers last weekend.
Morning snowfall may have discouraged some voters, said election official Nick Floros, Salt Lake County chief deputy clerk. Floros said he expected turnout to be about 46 percent, and with all of the precincts reporting, the actual turnout was 47.75 percent.
Results also showed that five six spending propositions on the Salt Lake City ballot passed and that three incumbent City Council members won re-election.
In Holladay, Dennis Webb won the mayoral seat, defeating Robert Neslen 63 percent to 37 percent. In Ogden, Mayor Matthew Godfrey won a second term by a 57-43 percent margin over challenger Jesse Garcia. West Valley City Mayor Dennis Nordfelt ran unopposed and was re-elected.
(Copyright 2003 by The Associated Press. All Rights Reserved.)
×
Most recent Utah stories