Estimated read time: 1-2 minutes
This archived news story is available only for your personal, non-commercial use. Information in the story may be outdated or superseded by additional information. Reading or replaying the story in its archived form does not constitute a republication of the story.
Carole Mikita ReportingA tiny piece of cloth that Catholics believe is a holy relic from Mexico has traveled to Utah. The reason it stopped here is a connection between the recently named Saint Juan Diego and the Catholic High School in Draper.
As they waited in anticipation, the 1700 students sang and repeated the rosary. They were told that the relic might never visit Utah again; it is a rare opportunity to see what so many consider a miracle.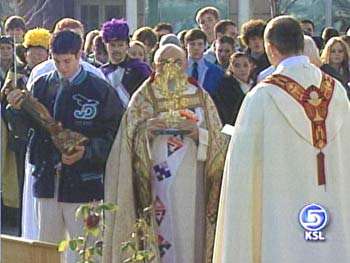 On December 9th, 1531 a Mexican peasant named Juan Diego claimed to have seen a vision of the Virgin Mary; she is said to have left her image on his cloak. The Knights of Columbus preceded what is called 'The Tilma of Tepeyac'. It is a half-inch square piece of that cloth; the rest of the tilmas remains in Mexico City.
Experts agree it should have disintegrated after five centuries. The faithful consider its continued existence yet another miracle.
Claudia Lopez, Juan Diego Catholic High School: "This means a lot to me today 'cause I have family that's in Mexico City. And I've been there and I've seen her and have pictures. To actually have a piece here in the United States is actually very exciting."
Julianna Cisneros, Juan Diego Catholic High School: "My family's from Mexico as well, but I haven't been there for like a long time. So ... and this is a once-in-a-lifetime opportunity that this is here and I'm really excited."
Mass was celebrated by Bishop George Niederauer for Juan Diego High School students in hopes that all of this will add to their faith experiences.
The relic will now rest for several days inside the Our Lady of Guadalupe Chapel on campus; it is open for visitors to see.
×
Most recent Utah stories