Estimated read time: 2-3 minutes
This archived news story is available only for your personal, non-commercial use. Information in the story may be outdated or superseded by additional information. Reading or replaying the story in its archived form does not constitute a republication of the story.
Sam Penrod ReportingDramatic events in a South Jordan neighborhood leave a man in critical condition, his alleged attacker in jail, and a woman caught in the middle.
Police say a dentist came home this afternoon and found his wife with another man. The dentist is accused of repeatedly stabbing that man. He's in jail tonight facing attempted murder charges in what appears to be a love triangle involving his wife and another man.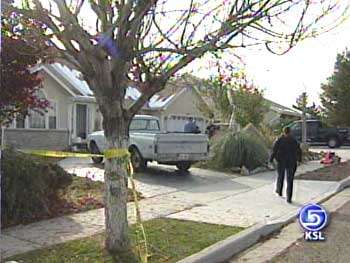 The dentist is accused of repeatedly stabbing a man he found in his home, then riding on the hood of a car as his wife tried driving the other man to the hospital.
Police were already familiar with this home after several domestic violence calls in recent months. What exactly caused the fight to turn violent is still unknown, but one man is in the hospital and another is in jail.
The home is a crime scene tonight as investigators look for evidence in a violent stabbing. 51-year old Benjamin Gilstrap is in the Salt Lake County jail facing attempted murder charges.
Detectives say Gilstrap came home and found his 43-year old wife with a 33-year old man. A fight ensued and Gilstrap allegedly pulled a hunting knife and stabbed Calvin Zettlen several times.
Chief Dan Pearson, South Jordan Police Dept.: "When he left the scene he had several stab wounds, the worst of which was a very large cut deep in the thigh of one leg and he was bleeding extremely bad."
The suspect's wife loaded the victim into her car to take him to the hospital, but the suspect grabbed onto the hood and held on as his wife drove more than a mile.
Joyce Maurer, Neighbor: "I saw this guy on the top of this hood and I thought, 'Why is he on that hood?', because the car was flying and that guy was trying to get him off the hood."
Chief Dan Pearson: "Our officers found the white vehicle a few blocks away from the scene where this occurred, and there was a man still hanging to the hood of the vehicle when they stopped them."
The victim was airlifted to the hospital, the woman was questioned by police, and her husband was booked into jail. Unfortunately police say one of the couple's young children witnessed the stabbing.
"Chief Pearson: "Our crime victim advocates are with both of the boys right now and we're going to get them back with their mother fairly quickly."
Investigators say they have recovered the knife believed to have been used in the attack and are looking for other evidence tonight. Police expect to release more details into what happened here tomorrow.
×
Most recent Utah stories