Estimated read time: 2-3 minutes
This archived news story is available only for your personal, non-commercial use. Information in the story may be outdated or superseded by additional information. Reading or replaying the story in its archived form does not constitute a republication of the story.
Jill Atwood ReportingAutumn and Desi Smith are finally free of their hospital beds, but their rehabilitation is just beginning.
You may remember the family was struck by a car while walking in Magna. The children's six year old brother was killed. Tonight this family is struggling both emotionally and financially; they're also worried the 21 year old driver may get off easy.
The Smith family has always been tight, and despite this devastating blow it's quite obvious they gain strength from each other. Today we saw a young mom determined to see her children walk again. But determination will not pay the bills.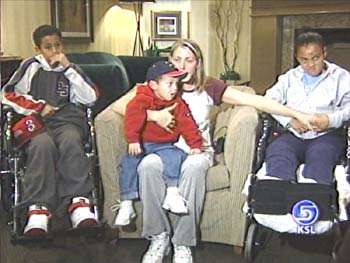 Liza Smith, Children's Mother: "It's been tough. I have a lot of pride. I'm not one to ask for help. Anyone that knows me or my family knows that."
The children will need months of therapy, and now tutoring to try to catch up in school. To make matters worse, mom will soon be out of a job, and they are already out of a home.
With the kids confined to a wheelchair, stairs are absolutely out of the question so the smith family had to leave their second story apartment home and check into a hotel. Right now they still don't have a permanent place to live.
In the meantime, Liza Smith says she received some disturbing news from the District Attorney's office. It seems a plea bargain is in the works regarding the driver, Tory Jacks. She says it's looking like he may not do much jail time at all; something she'll have a hard time explaining to her kids.
Liza Smith, Children's Mother: "When they are hurting the most or they're struggling to shift their hips to roll over in bed they get so frustrated and ask why. And everyday they ask if he is still in jail."
Quickly she'll refocus their thoughts to healing, and remind them of their younger brother "Budha", his picture now tucked inside a locket lying close to their hearts.
Family and friends are planning to protest that possible plea agreement on Wednesday morning. There is still a fund set up in the Smith family name at any Zion's bank.
×
Most recent Utah stories