Estimated read time: 2-3 minutes
This archived news story is available only for your personal, non-commercial use. Information in the story may be outdated or superseded by additional information. Reading or replaying the story in its archived form does not constitute a republication of the story.
Samantha Hayes reportingIt seems unimaginable, but police say this is what happened: The woman was driving along 2200 West at about 100th South. The speed limit there is 35. Police say the woman and her 26-year-old boyfriend were arguing. He was sitting in the back seat on the driver's side. Then he inexplicably jumped out, tumbled across the road, landing close to the curb.
"We called in Life Flight, but the patient was announced dead at the scene here."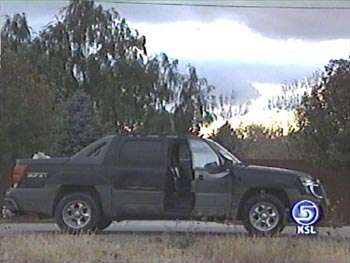 It happened around four o'clock this afternoon Tr affic was moving at a normal pace along 2200 West. The woman and three passengers were driving in the northbound lane in a black four-door Chevy Avalanche. All the passengers were riding in the back seat.
Dan Pearson/ South Jordan Police Dept.: "It appears there was some kind of domestic going on inside the vehicle. There was a 28-year-old lady and two children in the vehicle."
Police say the two children, a 6 year old girl and 10 year old boy, are being interviewed and may provide the best information as to why the man jumped out of the vehicle.
At the scene, both the fire department and police are taking pictures and interviewing witnesses, some who live along the road where it happened.
Kiersten Babbel/ Witness: "We came back and there were all these policemen and fire trucks and people asking questions. It was really sad."
Kathy Babbel Witness: "One minute you are alive and one minute you are not because of a split second decision. I think it's pretty scary."
Police say the man and woman were living together in the South Jordan area and officers have visited that address more than once on domestic disturbances.
Police say they have been interviewing the woman and her children for most of the evening. They say the woman is extremely upset and distraught.
At this point in the investigation, police say she probably won't be charged.
×
Most recent Utah stories