Estimated read time: 3-4 minutes
This archived news story is available only for your personal, non-commercial use. Information in the story may be outdated or superseded by additional information. Reading or replaying the story in its archived form does not constitute a republication of the story.
SALT LAKE CITY (AP) -- Testifying for a fourth day, the former finance director for this city's Olympic bid committee said many of the payments the government contends were bribes to win the 2002 Winter Games were listed in budget and other documents available to any trustee who looked for them.
Rod Hamson testified Wednesday that spending on International Olympic Committee delegates was categorized in a bid campaign budget and itemized in a general ledger. One page of the budget even named a handful of children of IOC members who were receiving scholarships to attend U.S. schools.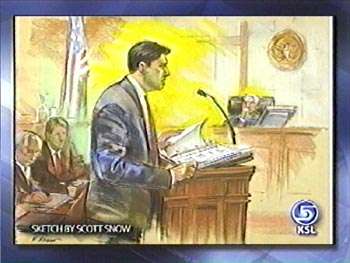 "Are these the individuals you testified were hidden from the board of trustees?" defense lawyer Max Wheeler asked Hamson.
"They were not discussed openly," Hamson replied.
Yet, Wheeler established that any trustee who looked at the budget or wanted to know could have found out the bid committee was supporting some children of IOC members.
The jury saw photographs of Utah dignitaries, including the former governor and former Salt Lake mayor, mixing with IOC delegates and their children at party and dinner scenes. Another photograph showed an IOC delegation shopping in a Park City store at bid committee expense.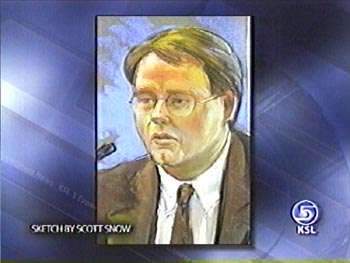 Wheeler chipped away at the government's contention that bid leaders Tom Welch and deputy Dave Johnson tried to hide their dealings with IOC delegates from a board of trustees.
Hamson spent three days last week testifying for the prosecution, recounting the staggering sums he paid at the direction of the bid executives to International Olympic Committee delegates who awarded Salt Lake the 2002 Winter Olympics.
Hamson prepared checks for Welch or Johnson to sign and made wire transfers ostensibly to reimburse IOC and family members for first-class travel, lodging and activities in Utah and elsewhere and other, still unexplained expenses.
Almost without exception, delegates worked diversions from Paris to Acapulco into their many expense-paid itineraries.
Hamson, under questioning by Justice Department fraud prosecutor Richard Wiedis, acknowledged he helped disguise questionable payments by booking them under innocent-sounding budget categories for staff travel or a humanitarian program for impoverished athletes in developing countries.
Hamson's most telling remarks came late Friday before the jury was let go for a the long weekend. Hamson said he had a change of mind about payments "I had rationalized" as legitimate help for the loosely defined worldwide "Olympic family."
He now considers them graft.
Johnson's lawyer suggested Hamson changed under government pressure and to avoid prosecution at a time when he was out of work and declaring bankruptcy because of a business failure.
Hamson said his change of heart about Olympic family treatment came after seven or eight interviews with federal agents in early 1999. And he acknowledged he was testifying under an "understanding" he won't be charged in the alleged bribery scheme.
Welch and Johnson have maintained the $1 million they showered on IOC delegates wasn't bribery, just the Olympic way of business and part of their stated mission to build "vote-influencing" personal relationships with IOC members. They say they did their job, winning the Olympics, and didn't defraud anybody.
Hamson is the government's second witness in what promises to be a long trial for Welch, 59, and Johnson, 44. The first was Stephanie Pate, who was Welch's secretary. She recounted how she felt pressured by an Olympic trustee to hand over a document that triggered the bid scandal, revealing one of a handful of scholarships for IOC relatives at U.S. schools.
If convicted on all 15 felony counts, Welch and Johnson could get four to 75 years in prison. A federal grand jury indicted them more than three years ago on five counts of bribery racketeering, another five of mail, wire and "honest-services" fraud, four of violating the Travel Act by crossing state lines and a single count of conspiracy.
(Copyright 2003 by The Associated Press. All Rights Reserved.)
×
Most recent Utah stories