Estimated read time: 1-2 minutes
This archived news story is available only for your personal, non-commercial use. Information in the story may be outdated or superseded by additional information. Reading or replaying the story in its archived form does not constitute a republication of the story.
(KSL News) -- Friends of the family hit by an alleged drunk driver staged a rally today, hoping to send a message to prosecutors.
This morning outside the district court in West Valley City, friends of the Smith family held signs, and screamed for tougher drunk driving laws. Liza Smith, the mother of the children involved in the accident, is afraid prosecutors will go easy on 21 Tory Jacques, the man accussed of hitting the family, and killing six year old Darius Smith. But the district attorney claims that's not the case.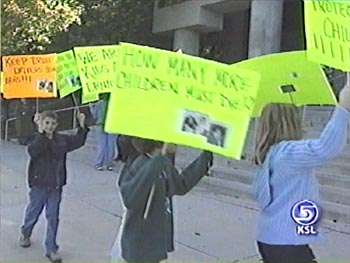 Gloria Hopson/Family Friend: "THEY DID MENTION TO LIZA AND THIS WHAT SHE TOLD ME THAT THERE IS A POSSIBILITY OF A PLEA BARGAIN, BECAUSE THEY EVEN TOLD HER DETAILS OF WHAT THE PLEA BARGAIN COULD BE."
Deputy District Attorney Kent Morgan says there is no plea deal on the table...he claims it was a misunderstanding, and the intent is to go forward with the charges as filed.
Kent Morgan/Deputy District Attorney: "WHAT WE DO WITH VICTIMS IS WE SET THEM ASIDE WITH COUNSELORS IS WE EXPLAIN THE CRIMINAL JUSTICE PROCESS."
The driver Tory Jacques faces an automobile homocide charge, and several other charges. The two children are out of the hospitals, but will need much therapy to fully recover.
×
Most recent Utah stories