Estimated read time: 1-2 minutes
This archived news story is available only for your personal, non-commercial use. Information in the story may be outdated or superseded by additional information. Reading or replaying the story in its archived form does not constitute a republication of the story.
Carole Mikita Reporting'America's Choir' receives America's highest honor in the arts. President Bush awarded the Mormon Tabernacle Choir the National Medal of Arts in the Oval Office this afternoon.
It was President Ronald Reagan who created that title 'America's Choir' and it was in 1984 that he recommended that Congress establish this award.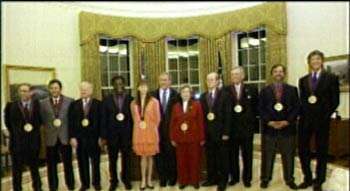 The choir kicked off its 75th anniversary year in broadcasting this summer. Just four months ago the Mormon Tabernacle Choir gathered for an historic photograph outside the Jefferson Memorial. The singers have traveled many times to the nation's capitol, most notably to perform for inaugurations.
Ronald Reagan dubbed the group, 'America's Choir'. Today, same city, different president, this time an honor bestowed upon the singers. President Bush presented choir leadership with the National Medal of Arts.
The award is given "to individuals or groups who, in the President's judgment, are deserving of special recognition by reason of their outstanding contributions to the excellence, growth, support and availability of the arts in the United States"
Whether at home or on tour the choir can often be found paying tribute to the nation with music that transcends religion.
Dr.Craig Jessop, Mormon Tabernacle Choir Music Director: "When this many people can come together and create a thing of beauty it shows what people can do when they're one and when they're united in a cause. We see so many negative images; this is such a positive image of goodness and goodwill."
The choir has earned five gold records, an Emmy and a Grammy. Choir members will receive the National Medal of Arts at rehearsal tomorrow.
×
Most recent Utah stories