Estimated read time: 2-3 minutes
This archived news story is available only for your personal, non-commercial use. Information in the story may be outdated or superseded by additional information. Reading or replaying the story in its archived form does not constitute a republication of the story.
*Jed Boal Reporting*WATCH VIDE0 -- There's a lawsuit making waves in the computer industry that may produce ripples in all of our lives some day. A small Utah-based software company is tangling with computer-giant IBM, raising the ire of many software users, and the outcome could affect business around the world.
Lindon-based software company SCO is a lighting rod of controversy in the computer world today.
Darl McBride, SCO President and CEO: "It has become the biggest issue in the computer industry in decades."
This summer free software advocates picketed SCO. They're fired up over a fundamental fracture in cyberspace--free software versus intellectual property. In one corner is IBM and free software users. In the other corner is SCO, which owns the code they argue is running the business world.
SCO sued IBM in March for three billion dollars, claiming IBM broke a contract and misused trade secrets.
Darl McBride, SCO President and CEO: "The stakes are extremely high. The balance of the software industry is hanging on this."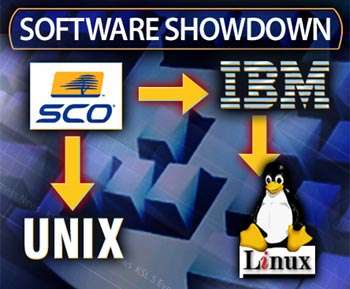 SCO claims ownership of Unix, an operating system used to run small to huge businesses. SCO says its client, IBM, has placed UNIX code into the LINUX operating system. Linux is free, easy to modify and distribute, and is taking off worldwide. SCO says it cannot compete against a free product that relies on its own trade secrets.
The attacks on SCO have escalated to trash talk on website, hate e-mail, and even death threats
Darl McBride, SCO President and CEO: "This thing would not be as big a deal as it is if we did not have a case. So instead of waiting for a judgment where they might lose, they're trying to shut us down in the short-term with cyber-attacks or personal attacks."
So, who opposes SCO? Thousands of LINUX users here in Utah and countless more around the world. We talked to some students in Provo who were part of that protest. Linux-users and peaceful protestors like Jason Holt want the code available to them without permission. He adds to it, others add to it to improve the operating system.
Jason Holt, Linux User: "I can access the code. I can access the tools. I can access the people. We're working together to build something as a community."
Linux users argue they haven't seen any proof of copied code.
Jason Holt, Linux User: "I think it's completely bogus, they haven't shown anything."
SCO says it can prove it was stolen, and will.
Darl McBride, SCO President and CEO: "If SCO loses this case, software becomes free, there's going to be a downward spiral."
There are sure to be more battles ahead before the case makes it to federal court in Salt Lake in 2005.
KSL.Com Message Board on SCO / Linux Debate
×
Most recent Utah stories