Estimated read time: 2-3 minutes
This archived news story is available only for your personal, non-commercial use. Information in the story may be outdated or superseded by additional information. Reading or replaying the story in its archived form does not constitute a republication of the story.
John Daley ReportingDave Johnson, Former SLOC Vice-President: "I think they should have brought some experienced people out from Washington to look at the evidence before they let these cowboys go."
Hard words and what may turn out to be a hard choice for the judge in the Olympic bribery trial. It began this morning with a surprise recess in the case after defense attorneys raised serious questions about the testimony of a key government witness. Now, defendants Tom Welch and Dave Johnson appear confident the trial may be over.
The defendants, the witness, the judge, the jurors, and the press--everyone arrived at court this morning expecting a continuation of the trial. Instead there was a delay and then the judge called a recess for the day. Why? No one is saying.
With the rain pouring the principal players in the Olympic bribery drama arrived in court for another day. But this day was turned upside down by events at the end of the day yesterday. After testimony closed Wednesday lawyers for the two sides met with Judge David Sam in chambers for two hours.
This morning Judge Sam delayed the start of proceedings and then mid-morning called an unexplained recess for the day, sending jurors home. On their way out of court defendants Welch and Johnson were talking tougher than ever, implying the government had major problems with their case.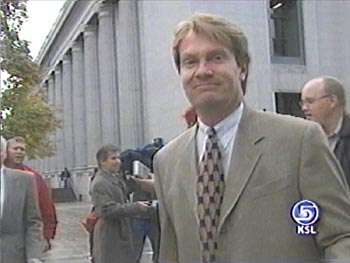 Tom Welch, Former SLOC President: "I got to court and they told me to come back at 8:30 tomorrow. Question: 'Mr. Johnson said they should have sent more experienced people?' No, they shouldn't have sent anybody at all."
The hubbub appears to be caused by the testimony of key government witness and former Finance Director Rod Hamson. On the witness stand Hamson was asked about bid committee reimbursements for IOC travel.
Under cross-examination his American Express card bill showed he was given a credit for airline tickets for which he was also reimbursed by the bid committee. It was a clear attempt by defense attorneys to raise questions about Hamson's testimony by suggesting the government had missed other examples of improper accounting at the bid committee, and that Hamson may have incriminated himself.
Today KSL-TV has confirmed Hamson was assigned a Federal Public Defender. But regarding that discrepancy on the stand Hamson said, "I don't think it was anything I set out to do," saying it may have been done "inadvertently." Much of this may become clear tomorrow morning when everyone is expected back in court and the trial will resume.
×
Most recent Utah stories