Estimated read time: 1-2 minutes
This archived news story is available only for your personal, non-commercial use. Information in the story may be outdated or superseded by additional information. Reading or replaying the story in its archived form does not constitute a republication of the story.
Sandra Yi ReportingA federal grand jury has indicted a man with illegal documents for intentionally setting an LDS ward house on fire. That fire happened back in August and caused more than a million dollars in damage to the church.
The fire destroyed most of the west wing of the church, which has since been rebuilt. But the fire cost the church 1.3 million dollars. 36-year old Angel Diaz-Juarez has been federally charged with arson in connection with the fire.
A grand jury returned the indictment late last night. That indictment says Diaz-Juarez started the fire after he broke into the church and stole blank checks from the clerk's office. He allegedly wrote two checks totaling 12 hundred dollars and received cash back from a Title Loan company in Salt Lake County and a Mexican market in Salt Lake City.
Diaz-Juarez faces federal charges because of the damage to the church.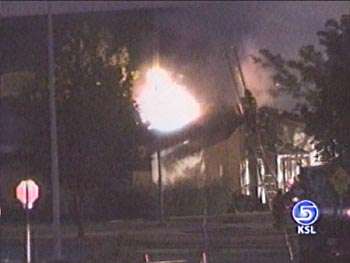 Paul Warner, United States Attorney: "The department of justice takes any damage done to places of worship very, very seriously."
Diaz-Juarez was arrested in August, but disappeared after he was released on bail. Authorities caught up to him less than two weeks later at a friend's home in West Valley City. In addition to the four-count indictment with arson, Diaz-Juarez has also been charged with bank fraud and possession of a counterfeit immigration document. He is now in state custody and is expected to be handed over to federal authorities next week.
Authorities believe he was not a member of the church and declined to say whether Diaz-Juarez has a criminal history.
The charges he is facing have stiff penalties. The arson charge alone carries a potential minmum penalty of five years in prison and a 250 thousand dollar fine. If convicted, Diaz-Juarez will be deported.
×
Most recent Utah stories