Estimated read time: 3-4 minutes
This archived news story is available only for your personal, non-commercial use. Information in the story may be outdated or superseded by additional information. Reading or replaying the story in its archived form does not constitute a republication of the story.
Shelley Osterloh ReportingA Utah developer and building contractor traveled to Romania a couple of years ago and was deeply touched by the appalling conditions of street children there. So he set out to do something to help. He organized a group of adults and teens to go to Romania to finish a special home for teen girls.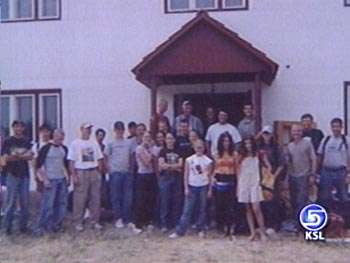 Communist Dictator Chouchesque encouraged the people of Romania to have lots of children and promised the state would care for them if parents couldn't. Then the fall of communism and the Romanian revolution of 1989 plunged the country into poverty, so there is little money to care for the thousands of children who have been abandoned.
Because the government of Romania hasn't money enough to care for the children, at age 14 they are forced to leave the orphanages to fend for themselves. Many live on the streets and survive by begging, prostituting or stealing. Salt Laker Howard Schmidt, says it was the most tragic sight he'd seen.
Howard Schmidt: "They just have no future and they don't anticipate any future."
Take for example one 19-year old woman who lives in the edge of a landfill. She has two children of her own, whom she has sent to an orphanage. Or a boy who tells Schmidt and others that he sniffs chemicals so he doesn't feel hungry or cold. Two years ago on his first trip to Romania Howard Schmidt met a Romanian minister who was trying to build a home for teen girls to get them off the street.
Howard Schmidt: "And I said, 'you know what we can do this. I'm a builder, I'm a contractor, and I have friends. We can get this done."
Schmidt and his friends donated lumber, floor covering, paint and countertops. His daughter Jennie organized a clothing drive at Alta High.
Jennie Schmidt: "We ended up with about 80 pairs of shoes, over 150 pairs of pants, 500 shirts, just tons of clothes. Everyone was so willing to help and to bring together their resource."
Supplies were shipped and 20 Utahns-- half of them teenagers -- traveled to Romania this summer to finish the home and build about 50 beds. They also built a green house.
Less than two weeks ago some returned for the dedication of the Bethany Sisters House, which will be home to 35 teen girls and 15 impoverished elderly women. One 81-year old woman there had tears of gratitude.
Voice of Translator: "God bless you again, and give you health for all the work you've done."
The people who worked on the project say service to others is its own reward.
Lauren Schmidt: "I felt like I was making a new life for girls over in Romania. I felt like I was giving them a second chance."
A better future for themselves and, Schmidt hopes, for their country.
Howard Schmidt: "Be able to recognize the value of being responsible and integrity. And learn some life skills. That these will become girls that will contribute to Romania's comeback."
And the project does not end there. Schmidt says the Bethany Sisters House needs ongoing financial support. With the help of the Globous Relief Fund Schmidt is searching for others who want to sponsor a girl in Romania.
For more information, call 801-977-0444 or follow the link to the relief fund's web site.
×
Most recent Utah stories