Estimated read time: 4-5 minutes
This archived news story is available only for your personal, non-commercial use. Information in the story may be outdated or superseded by additional information. Reading or replaying the story in its archived form does not constitute a republication of the story.
SALT LAKE CITY (AP) -- A key government witness in the bribery trial of two Salt Lake City Olympic bid leaders took a grant of immunity Friday and acknowledged he apparently pocketed more than $50,000 in bid committee funds he wasn't entitled to keep.
Rod Hamson, who was the finance director for the Salt Lake bid campaign, was confronted with evidence showing he double-billed the committee 27 times for bid expenses and 30 other times took money he wasn't entitled to keep.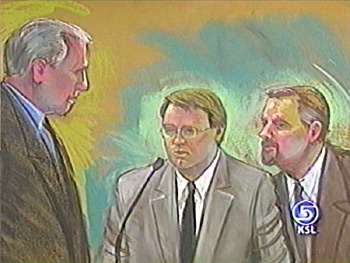 "It's certainly possible mistakes were made. I don't believe it was intentional," Hamson told Max Wheeler, a lawyer for indicted bid deputy Dave Johnson.
Hamson didn't contest evidence from his own charge card, expense forms and reimbursement checks from the bid committee. The discrepancies Wheeler cited in Hamson's expense forms grew more than tenfold since Hamson last took the stand on Wednesday.
The revelations could discredit Hamson, who has been providing government testimony about questionable reimbursements bid chief Tom Welch and Johnson made to International Olympic Committee members who awarded Salt Lake the 2002 Winter Olympics.
When Hamson returned Friday to the stand, he invoked his 5th Amendment rights against self-incrimination. U.S. District Judge David Sam excused the jury and a prosecutor offered Hamson immunity from federal prosecution for his continued testimony.
Hamson's federal defender, Steven Killpack, indicated Salt Lake County District Attorney David Yocom wouldn't prosecute Hamson for violating any state laws.
Hamson's legal troubles forced a one-day layoff Thursday the trial of Welch, 59, who was president of the Salt Lake bid and organizing committees, and Johnson, 44, who was senior vice president. The two men are accused of plying IOC members with $1 million in cash, gifts and favors for the games.
Hamson was first surprised on the stand late Wednesday by documents showing he received a $4,600 credit on his personal charge card for airline tickets he bought for an IOC member. Other documents suggested Hamson was separately reimbursed by the bid committee for the same expense.
It wasn't clear whether Jean Claude Ganga of the Republic of Congo ever took the 1994 trip from his second residence in Paris to San Francisco en route to Salt Lake City. The credit on Hamson's American Express bill suggests Ganga canceled.
Welch hinted the defense had more evidence of discrepancies on Hamson's expense forms that could discredit or incriminate the witness, who has testified the bid committee's payments to IOC members were illicit.
"His problem is he doesn't know how badly we got him," Welch told The Associated Press outside court Thursday.
It wasn't immediately clear how this development might set back the bribery case against Welch and Johnson, who are accused of showering $1 million in cash, gifts and payments on IOC members who awarded Salt Lake the games. Defense lawyers said they had not filed a motion for a mistrial, even though Welch insisted there was grounds for it.
The government plans to call Salt Lake businessman David Simmons as its next witness.
Simmons pleaded guilty to tax fraud in 1999 as part of a "sham" job he said he arranged for the bid committee for John Kim, the son of IOC vice president Kim Un-yong of South Korea. John Kim, who is being held in Bulgaria pending extradition to the United States, was indicted for lying to FBI investigators and using the job to fraudulently obtain a green card.
He left for South Korea before his 1999 indictment and never returned, but was picked up on an Interpol warrant on his arrival in Bulgaria five months ago to inspect an Olympic training site.
The government suffered another setback early in the 2-week-old trial when judge Sam threw out some key government evidence -- the so-called "geld" file that detailed the personal and family needs of IOC delegates.
Sam ruled the authenticity of the file, which was found on a discarded computer disk, was in doubt.
Welch and Johnson face 15 felony charges, including bribery racketeering, and fraud, and could face up to 75 years in prison if convicted of all charges, though any actual sentence would likely be far shorter.
The scandal was the worst in Olympic history, and it resulted in the expulsion or resignation of 10 IOC members.
In 2001, Sam threw out the case, sparing Salt Lake City the embarrassment of a courtroom spectacle leading up to the 2002 Games. Then in April of this year, the 10th U.S. Circuit Court of Appeals in Denver reversed Sam's order and said the bid leaders must stand trial.
(Copyright 2003 by The Associated Press. All Rights Reserved.)
×
Most recent Utah stories