Estimated read time: 2-3 minutes
This archived news story is available only for your personal, non-commercial use. Information in the story may be outdated or superseded by additional information. Reading or replaying the story in its archived form does not constitute a republication of the story.
John Daley ReportingAfter an unexpected one-day recess, the Olympic bribery trial continued today. Back on the stand was a key prosecution witness, former Olympic Finance Director Rod Hamson, who was given immunity by the government after significant problems came up in his testimony two days ago.
It was another bruising roller coaster day in court. Defense attorneys spent much of the day raising a variety of serious doubts about the government's case--especially about the credibility of a critical government witness and his handling of bid committee funds.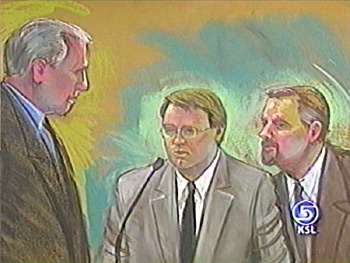 Wednesday, defense attorneys dropped a bombshell revealing discrepancies in bid committee reimbursements of former finance director Rod Hamson's credit card expenses. After a one-day delay yesterday Hamson took the stand and took the 5th, invoking his right against self-incrimination.
The judge excused the jury and a prosecutor offered Hamson immunity from federal prosecution for his continued testimony. With the jury back Hamson was asked about 51-thousand dollars in unaccounted for bid committee funds, which an auditor for the defense team had discovered.
Defense attorneys said they'd found 57 examples of either double billing or unreported credits to Hamson's account. Hamson said without checking each document he could not disprove the allegations.
Rod Hamson: "It's certainly possible mistakes were made. I don't believe it was intentional. I did not intentionally keep any of it."
Under questioning from prosecutor Richard Wiedis, Hamson testified that he handled over a thousand airline ticket transactions and dealt with upwards of five-thousand checks in the course of the year in question.
At day's end, the defendants expressed optimism.
Tom Welch, Former SLOC President: "What specifically do you think might register with this jury? About six hours of the testimony."
Also, the defense used Hamson to highlight the apparently bottomless greed of the IOC with a huge chart showing the name of every IOC member showing that 85 out of 100 took gifts and travel outside the rules.
The trial continues with Hamson back on the stand Monday.
×
Most recent Utah stories