Estimated read time: 2-3 minutes
This archived news story is available only for your personal, non-commercial use. Information in the story may be outdated or superseded by additional information. Reading or replaying the story in its archived form does not constitute a republication of the story.
Samantha Hayes ReportingA West Valley neighborhood is in shock after a morning gunshot ended the life of a 3-year old boy. Police say it happened when his 4-year old brother got hold of their mother's gun.
Police say the mother was asleep at the time and didn't hear anything. She told police the gun was locked up in a safe, but her son was able to find the key.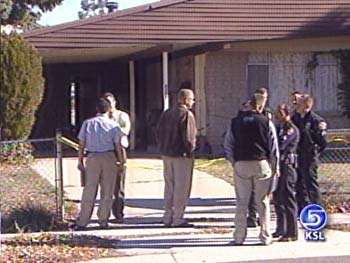 Tuesday afternoon fire trucks and medical help filled the streets of the West Valley neighborhood. But police say the three year old inside the house had been dead for a little while. Police attribute the delayed report to the 4-year old's inability to fully understand what happened.
Capt. Steve Sandquist, West Valley City Police Dept.: "But when he did finally wake up his mother and tell her around 12:00, he made some pretty profound statements to her that his brother had been shot."
His mother is a night security guard and says she was asleep when her son found the key to the gun safe, unlocked it, and took the loaded gun.
Capt. Steve Sandquist: "It appears the two children were playing guns as children do."
Adam Walker, Neighbor: "I just think this is just one more experience that we need to get the trigger law here in Utah as soon as possible."
Marla Kennedy with the Gun Violence Prevention Center says we are underestimating our children's ability to find and use guns.
Marla Kennedy, Gun Violence Prevention Center: "There's been study after study that shows you can educate a child until you are blue in the face not to touch a gun, but children by their very nature are not developed enough to stop that impuse control."
Kennedy says at least 17 other states have some kind of Child Access Prevention law.
Marla Kennedy, Gun Violence Prevention Center: "Right now there is no specific language in Utah's law to do that."
Again this year a bill is before the Utah Legislature to make negligent storage of a firearm a criminal offense. Experts say trigger locks can be used to prevent firing of some guns, but it's best to always separate the ammunition and the firearm and lock up both in different places.
×
Most recent Utah stories