Estimated read time: 2-3 minutes
This archived news story is available only for your personal, non-commercial use. Information in the story may be outdated or superseded by additional information. Reading or replaying the story in its archived form does not constitute a republication of the story.
Ed Yeates ReportingFootball players need more time to recover from concussions! That's the warning today from medical researchers saying players need more careful evaluation for subtle signs of injuries, which often go undetected.
Studies that began at the University of Utah more than four years ago have now been duplicated by other researchers, including, most recently, a neuroscience team in Wisconsin.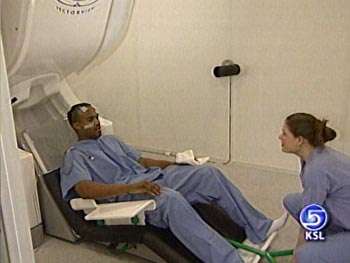 Coaches and fans see it all the time -- hard hits to the head.
Andy Gorniak, Carroll College Senior: "I intercepted a pass and went running and kind of turned my back and he hit me from behind. A guy speared me from behind my head and I was actually unconscious for 30 seconds."
Carroll College senior Andy Gorniak got his first concussion last year then a second one four days ago. The Brain Injury Association of Utah says he's among a growing number of athletes getting hit and hit hard.
Ron Roskos, Executive Dir., Utah Brain Injury Association: "Over 300-thousand concussions in sports related injuries happen each year. And just football itself is over 250-thousand. And ten percent of those are from a college rank, and twenty percent are from high school ranks."
More researchers, including those reporting today in the Journal of the American Medical Association, say unlike Andy, subtle symptoms often go undetected.
Several years ago new generation magnetic scanners at the University of Utah took baseline measurements of Utah players. Then as they got hit in games the athletes came back for follow-up monitoring. Sometimes changes in brain waves are subtle even with no apparent concussion.
Wisconsin researchers have now done the same study, concluding that even for a minimum stage one hits, athletes may need at least seven days for evaluation and recovery.
Dr. Michael McCrea, NCAA Concussion Study Surveillance: "If a clinician is relying on loss of consciousness as their definition of concussion they're going to miss approximately 90 percent of these injuries."
The study shows even a mild concussion can be followed by memory and concentration problems, which can linger days, weeks, even longer.
×
Most recent Utah stories