Estimated read time: 2-3 minutes
This archived news story is available only for your personal, non-commercial use. Information in the story may be outdated or superseded by additional information. Reading or replaying the story in its archived form does not constitute a republication of the story.
Ed Yeates ReportingUtah snowplow drivers have started taking their 60-thousand pound rigs through some of the worst winter conditions of any season. And they're doing it all from one location through a unique pilot project UDOT is running.
The driver of a snowplow must be ready to respond to any emergency. That's why not just anybody can walk off the street and climb into one of these rigs and start plowing snow. A GE Driver Development simulator gives UDOT drivers an almost too real training experience.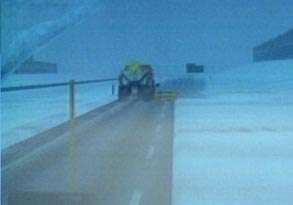 Dr. David Strayer, U of U Dept. of Psychology: "The skilled snowplow driver is about as skilled in his domain as the very skilled fighter pilot is in his domain."
That's not as far fetched as it sounds. Aboard the simulator, drivers go through the best and worst of all seasons. They feel every movement and drag on the rig. They see what's in back of them - even the distance of the snow throw from the blade.
Stuart Wright, 20-Year Veteran Driver: "You're trying to stay out of harm's way and keep everybody else safe while you're doing it."
The simulator can even blow a steering tire at the plow, something some drivers may never experience.
Brian Runkle, GE Driver Development: "We can change the conditions—night, day, light snow, heavy snow, black ice. We can simulate all those conditions they see on a daily basis as well."
Stan Burns, UDOT Research & Development: "It gives us the ability to practice over and over and over again in a non-threatening environment."
Despite early morning hours and fatigue drivers like Abel Diaz have to stay alert.
Abel Diaz: "I'm constantly watching for objects in the road."
The simulator paints extremely realistic scenarios. If a driver's alertness is diverted for only a moment -- a crash!
The new simulator training is a pilot project for now. It's a unique partnership between UDOT, General Electric and the University of Utah Department of Psychology.
×
Most recent Utah stories