Estimated read time: 1-2 minutes
This archived news story is available only for your personal, non-commercial use. Information in the story may be outdated or superseded by additional information. Reading or replaying the story in its archived form does not constitute a republication of the story.
Shelley Osterloh ReportingThanksgiving is just a week away and today two tons of turkeys were delivered to organizations that will feed the needy.
Hundreds of poor and homeless come each year to the Holy Trinity Greek Orthodox Church for their free Thanksgiving Dinner. And for the seventh straight year AAA Utah donated and delivered about 220 turkeys to two organizations that feed the needy.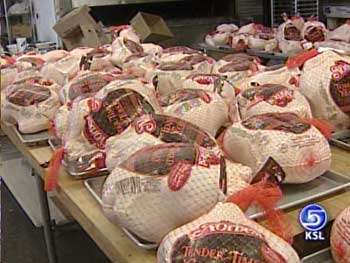 Volunteers prepare and feed thousands of people here at the Holy Trinity Church. The Salvation Army fixes meals and volunteers deliver those turkey dinners to the homes of people who are elderly and shut-in. Both organizations are extremely grateful to AAA for the turkey donation.
Capt. Laura Sullivan, Salvation Army: "A lot of the time, it's not just the meal; they want the human contact they want to feel that they are cared about. And Thanksgiving is about family, it's about community."
Father Michael Kouremecis Dean, Holy Trinity Orthodox Church: "There's a lot of needy people out there. With the economy and everything going on out there, people are really suffering, and we want to do our part here."
The turkeys should feed about four thousand people. AAA also donates turkeys in Nevada and California--- in all enough for 39-thousand people.
If you'd to like help, both the Salvation Army and The Greek Orthodox Church say they could use more volunteers.
The Salvation Army
252 South 500 East
Salt Lake City, Utah
Holy Trinity Greek Orthodox Church Kitchen
279 South 300 West
Salt Lake City, Utah
(801) 328-9681
×
Most recent Utah stories