Estimated read time: 2-3 minutes
This archived news story is available only for your personal, non-commercial use. Information in the story may be outdated or superseded by additional information. Reading or replaying the story in its archived form does not constitute a republication of the story.
Samantha Hayes ReportingA new theory is emerging as investigators try to determine why natural gas caused a home in Saratoga Springs to explode earlier this week. Some now say the frozen ground may have played a role.
Questar was at the home late Wednesday night sucking gas out of the ground. That was more than 24 hours after the explosion. They had to do this because the gas was trapped under frozen ground. It was like a cap, and that's part of the theory they think may explain how natural gas got from a broken gas line to the house.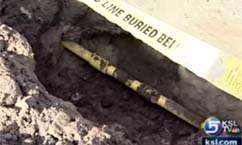 Questar Gas pinpointed the problem quickly, and they dug a hole to patch the broken natural gas line. But that discovery did not even begin to explain how it caused an explosion in a house about 40 feet away.
A contractor, who investigators still have not identified, was working on a utility line near the gas line. He was using a missile device to bore a hole to create a conduit, perhaps something for fiber optics.
Darren Sheperd, Spokesman, Questar Gas: "If the missile device, the boring device, comes under and hits the line, then the gas starts to blow."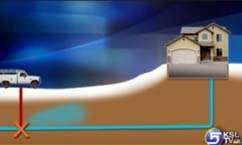 That boring device did hit the gas line. And natural gas, being lighter than air, started to rise through the ground.
And here is what Questar thinks may have happened. Instead of natural gas seeping up and out into the air, it was trapped by frozen ground.
Darren Sheperd: "We've had some freezing temperatures over the last little while which has put a frost cap on the surface. So that makes it difficult for the gas to come up and dissipate."
So may have it traveled underground and upward along the line to the house. But there is still a big mystery. How could natural gas get through the concrete foundation wall and into the house?
Darren Sheperd: "Again, that's part of the investigation to determine how the gas even got into the home."
Questar says it is not drawing a conclusion yet, but this theory is the best guess. Another question they just can't answer right now is why didn't Larry Radford and April Roper, the two people who died in the explosion, smell the gas when they entered the house?
×
Related links
Most recent Utah stories