Estimated read time: 1-2 minutes
This archived news story is available only for your personal, non-commercial use. Information in the story may be outdated or superseded by additional information. Reading or replaying the story in its archived form does not constitute a republication of the story.
Keith McCord ReportingFrom all indications it appears that a lot of people will be traveling during the Thanksgiving Holiday. Triple-A estimates 36-million Americans will leave town. Most will wait until next week, but the Salt Lake International Airport is already busy.
AAA says 288-thousand Utahns will travel at least 50-miles from home. At the airport today people were already heading out of town. 43-thousand people are expected to use the airport during the next several days. The busiest days at the airport will be next Wednesday, and the following Sunday, with Sunday the busiest travel day of the year.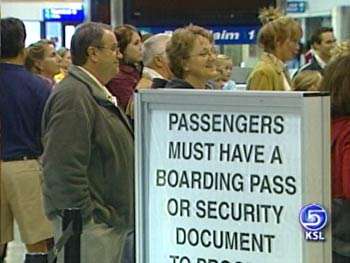 Security screening will be operating at full capacity-- they're opening up new x-ray lanes tomorrow night. Even so, lines could be long, especially at peak times; the wait could be 30 to 45-minutes. Passengers are reminded to keep their carry-on items to a minimum. The more you have, the longer it takes.
Earl Morris, Federal Security Dir., Trans. Security Admin.: "What happens is people come through, they're in a hurry, and they don't realize that if that alarm goes off when they go thru the magnatometer at that screening station, they're now going to spend several more minutes. Because we now have to take off the shoes, they get wanded in a secondary area, their bags are gone through, and all of those things, and that slows the process."
And, an early Christmas reminder-- if you're carrying gifts on the plane, do not wrap them! The security screeners will only unwrap them.
Most people will be driving to their holiday destinations in the coming week; about a quarter of a million Utahns will load up the car and head out. And there may be some wintery weather so take your time.
×
Most recent Utah stories