Estimated read time: 3-4 minutes
This archived news story is available only for your personal, non-commercial use. Information in the story may be outdated or superseded by additional information. Reading or replaying the story in its archived form does not constitute a republication of the story.
Jed Boal ReportingWith only three days to go to Thanksgiving food pantries along the Wasatch Front still struggle to meet the needs of those who suffer from hunger.
The generosity of the community is great, but the need for food is greater than ever before this holiday season. Food donors big and small have been unloading turkeys and other food at the Utah Food Bank all day, but there's a long way to go to meet the goals.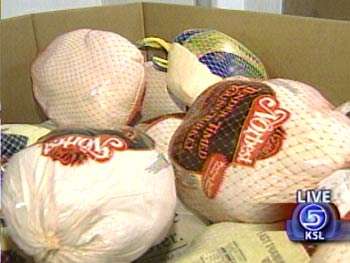 The Food Bank distributes turkeys and other Thanksgiving favorites to service groups throughout the state. They're still three thousand short with two days to go. The Crossroads Urban Center will distribute four-thousand turkeys this year, more than ever before.
Jean Nielsen, Community Services Council: "I think the economic condition has hit us all, but there are many of us who aren't hurting for food. I think it's surprising to find out how many people don't know where their next meal is coming from those of us who do have food want to share."
Linda Hilton, Crossroads Urban Center: "When you're trying to pay the rent so you don't get evicted, when you're trying to keep the heat on when the high is 32 degrees during the day, you're looking for something in your budget to cut. And the thing that always goes first is food."
The Crossroads Urban Center will meet its goal of four-thousand turkeys with the help of community donations and Harmon's. The Food Bank is optimistic it will get several thousand more turkeys, but then they need to look ahead to the rest of the holidays.
Tens of thousands of Utahns cannot put Thanksgiving dinner on the table without the help of their neighbors.
Julian Trujillo: "Looks like I got some cake, carrots, some stuffing, a turkey."
Julian Trujillo got laid off last week, but with a box of food from the Salt Lake Community Action Program, he'll be making Thanksgiving dinner for his daughter.
Julian Trujillo: "Appreciate it. I hope you all have a nice Thanksgiving."
Sherrie Raymond is also out of work, but she'll cook for her family, including two children.
Sherrie Raymond: "It is very tough, especially those who don't have a job and can't support their families."
Linda Hilton says several factors are driving more Utahns into hunger. A sluggish economy, no raise in the minimum wage, and an increase in the cost of housing, utilities and food can make it hard to break even.
Linda Hilton, Crossroads Urban Center: "I think the thing that scares me the most about the need this season, we have been seeing people who for years have been donors are now signing up to get the food."
Across the community it's the same story -- food pantries are struggling to meet the need this thanksgiving. According to the us department of agriculture Utah leads the nation in food insecurity, or hunger.
For the Utah Food bank they've seen a 30-percent increase in food requests year-round. With two days to go the warehouse is short three thousand turkeys, but they're optimistic.
Jean Nielsen, Community Services Council: "We honestly believe the community will come through. It's very awesome, it's gratifying."
With only four weeks until Christmas and cold winter ahead the food bank needs the generosity to continue.
×
Most recent Utah stories