Estimated read time: 2-3 minutes
This archived news story is available only for your personal, non-commercial use. Information in the story may be outdated or superseded by additional information. Reading or replaying the story in its archived form does not constitute a republication of the story.
Dina Freedman ReportingEven in the winter there's a lot going on in and around the snow of the Salt Lake watershed in our mountains. KSL Meteorologist Dina Freedman tagged along with students from Rose Park Elementary who participated today in an exciting field trip to the watershed.
The students and teachers teamed up with guides and volunteers from the Cottonwood Canyons Foundation. Many of them, for the first time in their young lives, strapped on snow shoes and took an educational hike.
The field trip was difficult at first, but then the kids from Rose Park Elementary got the feel for the snow shoes and began their journey to learn about the watershed and the winter animals who live there.
Richard Middleton, Volunteer Guide: "How long would you last if you didn't have clothes and didn't have snowshoes? Would you find food and water?"
These field trips are free to the schools from the Cottonwood Canyon Foundation and are to educate the kids about our precious natural resources.
Patrick Nelson, Cottonwood Canyons Foundation: "A lot of them sometimes show up with too-cold of footwear. They don't have the right stuff, but once they actually get moving they are just in awe. It's pretty awesome."
Running in snowshoes isn't an easy task but leads to discussions on how animals conserve their energy in the wintertime.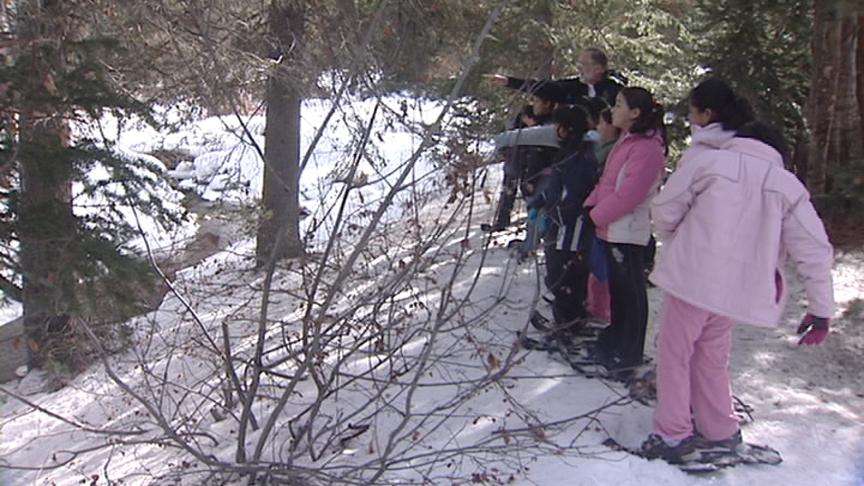 They ran into some animal tracks and got to see some hungry critters in action.
Richard Middleton: "This is very, very full of calories, it's like chocolate, except you'd have to eat about 130,000 of them to get a pound of chocolate, but it's very good food."
Looking for beaver lodges and learning about the nature of some of the natives up there was on the agenda.
Joaquin Barrios, 6th Grader: "The most interesting, I think, was the beaver part, how they live and how they, and what they have to do to build a home"
The kids had the most trouble with just staying upright in their snowshoes today, but overall it was a lot of fun, and even I was able to learn some new stuff.
×
Related links
Most recent Utah stories