Estimated read time: 1-2 minutes
This archived news story is available only for your personal, non-commercial use. Information in the story may be outdated or superseded by additional information. Reading or replaying the story in its archived form does not constitute a republication of the story.
Kimberly Houk ReportingThanksgiving is a time for families to gather around a large table, but for some Utah families who have loved ones serving in Iraq tomorrow won't be the same. Kimberly Houk has the story of a family in West Valley City pulling together for their first Thanksgiving without their husband and father.
The Craythorn family is spending this Thanksgiving with friends. It will be their first one without a husband and a father.
Shireen Craythorn, Wife: "We're going to set a place at the table for him. They do that in remembrance of soldiers."
Specialist Lyn Craythorne has been serving in Iraq since February. He can only talk to his family on the phone a couple times a week. It's been 10 months since Lyn has seen his children and his wife says he won't believe how much they've grown. But the one who'll probably surprise him the most is his wife.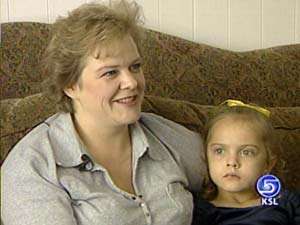 Shireen Craythorn, Wife: "I've cut my hair short. It used to be long, and I've lost 110 lbs. So I'm just waiting to see him walk right by me in the airport."
She's looking forward to him seeing the new "her" in a couple of weeks. He's coming home for Christmas.
Shireen Craythorn, Wife: "I think he's going to be shocked. I think he going to go 'wow.'"
And while Shireen and her children are counting the days until their dad comes home, right now they're focused on getting through Thanksgiving without him.
Shireen Craythorn, Wife : "There's a lot of change. It's very difficult having him gone. We would do a lot of things together as partners, and I've lost that other partner. I've had to take all of it on myself."
×
Most recent Utah stories