Estimated read time: 2-3 minutes
This archived news story is available only for your personal, non-commercial use. Information in the story may be outdated or superseded by additional information. Reading or replaying the story in its archived form does not constitute a republication of the story.
Richard Piatt ReportingThanksgiving is well known as a busy travel and shopping time. But today is also one of the biggest days of the year for liquor sales in Utah.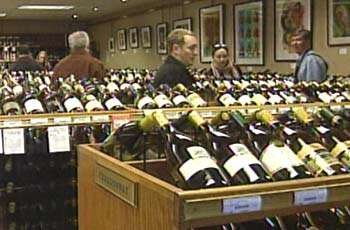 A packed parking lot pretty much tells the story: the state sells a lot of beer, wine and liquor this time of year. That's great for the state budget, but there are a lot of people who consider this a mixed blessing.
At the state wine store, they're stocking the shelves for people who are stocking up and lining up to pay. These people are helping rack up the biggest tab of the year for wine, beer and liquor statewide.
Richard Bringhurst, State Wine Store Manager: "Half the people in here are not regular customers. This is something because the meal is so significant. They come over for a special bottle of wine."
Non-drinkers at the State Capitol are less than thrilled about the high number of customers, which grows about six percent every year. But the reality is, the state depends on the income.
Utah makes 55-million dollars profit off alcohol sales every year. 33-million of it goes to the general fund. Just under 16-million goes to the school lunch program. 8.6 million goes to cities and towns. And, starting this year, a new beer tax will fund two-and-a-half million will pay for DUI enforcement and education.
And according to the Division of Alcohol Beverage Control, 35 percent of those sales happen between now and the end of the year. For customers there are a variety of reasons they brave the crowds on the eve of a holiday.
Nancy Bockelie, Wine Store Customer: "Because I've been very busy. So this is the only time I have to do it. And I thought since it's not at the end of the day I might be able to beat the rush, but I see I didn't do that."
And some show up because it's busy.
'Dash' Gillman, Wine Store Customer: "There's hardly any people in here and I thought it would be kind of cool to be here when there are a lot of people who are interested in wines and talk to them."
If you're a drinker, you help fund a lot of different programs in Utah. The state's mark up on alcohol is 64 percent.
×
Most recent Utah stories