Estimated read time: 2-3 minutes
This archived news story is available only for your personal, non-commercial use. Information in the story may be outdated or superseded by additional information. Reading or replaying the story in its archived form does not constitute a republication of the story.
Jill Atwood ReportingA Salt Lake man recalls the longest night of his life, stuck in a southern Utah canyon in the bitter cold, his leg broken.
This is a story we first told you about last week. Two brothers were hiking in Southern Utah when one slipped and fell. Today that hiker tells his story for the first time from his hospital bed.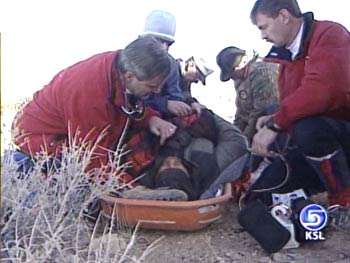 Justin Harris is doing much better. That leg has given him some problems, but he's hoping to get out of the hospital in the next week or so. Today he wanted to talk about his ordeal, but he wouldn't do it without his brother by his side.
Hand-drawn get well cards cover his wall, a family picture is not far from his bedside, and neither is his little brother Jeremy. Justin Harris says he's blessed.
Justin Harris: "I was going to keep going for him just like I knew he would keep going for me."
Jeremy and Justin were rappelling in the narrow steep canyons of Baptist Draw a little over a week ago. Late Saturday afternoon Justin slipped and broke his leg. The decision wasn't an easy one, but it had to be made -- Jeremy would leave his brother behind and go for help.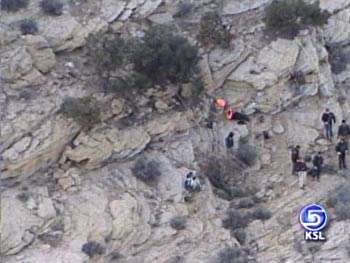 Justin Harris: "We set our minds up that we were going to make it out of there and that we weren't going to die in the canyon. We were going to make it out of there and get back to our families."
The hours turned into days; sleep was impossible. Justin says the pain and cold were almost too much to take, but giving up was not an option.
Justin Harris: "I felt like what a big waste if I let myself go into hypothermia or shock and die and he's just spent the whole night going to save me. I thought there is no way I was going to do that to him."
Finally the sound of voices; his rescuers had arrived almost 48 hours after his fall. His brother had kept his promise.
Justin Harris: "We've always been close we've always been brothers now I think we share something that neither one of us will ever forget. And it's definitely made us a lot closer, a lot closer."
Justin will undergo one more surgery to fix his leg. He had an infection that caused some problems to his kidneys, but he's expected to make a full recovery.
×
Most recent Utah stories