Estimated read time: 2-3 minutes
This archived news story is available only for your personal, non-commercial use. Information in the story may be outdated or superseded by additional information. Reading or replaying the story in its archived form does not constitute a republication of the story.
Shelley Osterloh ReportingIt's beginning to look a lot like Christmas, especially at the Festival of Trees. Today hundreds of volunteers spent the day decorating trees and dropping off gift items for the annual fundraiser for Primary Children's Hospital.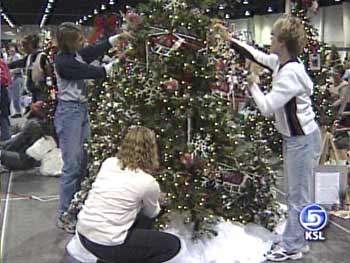 The Festival of Trees opens to the public on Wednesday; tomorrow night is the invitation only silent auction. The reason we came today is because this is when the trees are decorated. For every tree here there is a story of loss, of healing, appreciation, and always love.
The South Towne Exposition Center is a forest of sparkling lights, toys and good cheer. Each tree is decorated and sold to raise money for charity care at Primary Children's Hospital. Some are created in memory of loved ones who have died or dedicated to those whose lives have been saved or touched by the Hospital.
Bree Bell and family dedicated their tree to the staff at Primary. Little Jackson had no chance for life until doctors repaired the hole in his heart.
Bree Bell: "They truly save lives every day. And we are so grateful for them because Jackson is here. He is just a miracle. He's just been wonderful."
One tree called No Mountain High Enough, is done by family and co-workers of Lifeflight in honor of the crew members who lost their lives this year while rescuing those in need.
Shalmarie Bunker: "The tree symbolizes a mountain. And it has the three helicopters each symbolizing the three guys that we lost this year, kind of ascending the mountain."
Michele Roseqvist: "It means a lot to me because my husband was the survivor in the January crash, so it is personal to me to see the helicopters. But its been really fun to do it."
And while some of the personal reasons for donating a tree are very touching, the atmosphere is festive --- a way to contribute to the health and happiness of others and remember those who are gone with love.
Anny Opfar: "We are doing this tree in memory of Rick and Lisa Goff, the parents that were struck by lightning in the Unitas and they left three little children behind. And so it's been a real sweet experience for us to do this."
The Festival of Trees is a four-day gift of love to the children of Primary Children's Medical Center, a place of hope and healing. Of course the trees are just part of what's at the Festival. There are also door displays, a gift boutique, sweet shop, Kids Korner and entertainment.
×
Most recent Utah stories