Estimated read time: 2-3 minutes
This archived news story is available only for your personal, non-commercial use. Information in the story may be outdated or superseded by additional information. Reading or replaying the story in its archived form does not constitute a republication of the story.
John Daley Reporting Former Salt Lake Olympic board chairman Frank Joklik took the witness stand again today in the Olympic bribery trial.
Joklik testified he wasn't aware of any questionable payments to IOC members, even though some of those payments continued after he assumed the presidency of the Organizing Committee in 1997.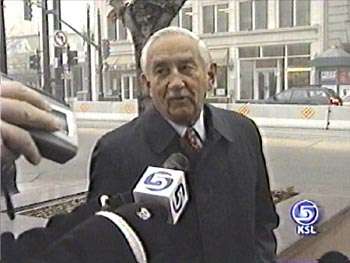 Again the big issue today was did the Olympic board overseeing the bid know about alleged bribes given to IOC members or were they deceived by Tom Welch and Dave Johnson?
Frank Joklik says the alleged improprieties were "concealed" from him, but that point came under sharp questioning by the defense team.
Frank Joklik was the chair of the bid committee board--one its most visible leaders--and he served on the three-member Executive Committee overseeing the campaign. He has a reputation as controlling and detail-oriented. But in court Joklik's memory of events is perhaps the most hazy of any witness so far.
Joklik testified that he was not aware of any questionable IOC payments, even those that continued after he took over as SLOC's President after Tom Welch resigned, including any of more than a dozen checks written out for at least $700 to the son of the IOC member from Libya. And he says he didn't know anything about IOC scholarships.
Later as a series of photos were shown featuring Joklik with IOC members at places like Lake Powell Joklik says: "At none of these gatherings did I ever hear any comments about handouts, scholarships, about cash being given and activities such as that. I never heard a word at any of these meetings about that subject."
Afterward Joklik was asked if he considered all the special treatment lavished on IOC members "bribes". He says he couldn't address the legalities of the term.
Frank Joklik, Former SLOC Board Chairman: "If the bottom line is that the penalty might be jail, it's my view that neither Tom nor Dave should go to jail. Why? Because I don't believe their intents were evil."
When asked if he was deceived by Johnson and Welch, Joklik says, "Certainly there was a lot of information concealed from me."
The defendants obviously disagree with that.
Also today, Audit Committee chairman Jim Beardall testified that financial controls were in place to insure the integrity of the bid, but that that money given directly to IOC members was never listed in the bid committee's budget. He'll be back on the stand tomorrow.
×
Most recent Utah stories