Estimated read time: 2-3 minutes
This archived news story is available only for your personal, non-commercial use. Information in the story may be outdated or superseded by additional information. Reading or replaying the story in its archived form does not constitute a republication of the story.
Debbie Dujanovic ReportingThe lights are all hung, the trees decorated and for the first time in a decade a Utah Governor prepares to celebrate the holidays at the Governor's Mansion.
Olene Walker and her husband expect a full house for Christmas and she took News Specialist Debbie Dujanovic on a holiday tour.
The lights are on, the ornaments up. Utah's new Governor is in awe, anticipating Christmas at the Mansion. It's also the first time in a decade Utah's First Family will spend the holidays here.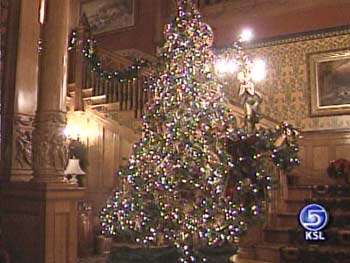 A Christmas Tree fire destroyed part of the mansion in the 90's; no one's lived there since, until Olene Walker and her husband moved in a few weeks ago, just in time to celebrate Christmas with six of her seven children, and 25 grandkids.
Gov. Walker: "It is beautiful, and I didn't even have to put a string of lights up."
That's Clark Monk's job; for 11-years he's decorated the mansion for the holidays.
Clark Monk: "I don't have a decorating business, or a design business. I just do it on the side, and enjoy doing it."
In fact he takes time off his "real job" as a life flight and ER nurse for LDS hospital to transform the mansion. There are six trees in the governor's mansion, each decorated with about two thousand lights, and it's taken about 48-hours to get the job done.
The trees are artificial, but don't come pre-lit out of the box. Monk hangs the lights and adds the ornaments, making each tree unique. The one in the main hall sits by the grand staircase and for the first time there are two in the parlor.
Clark Monk: "We try to do something new every year and this year we decided that two trees in the parlor, with a new governor would be kind of fun."
The tree in the governor's home library celebrates literacy.
With so many choices the governor has to make a tough decision. Her family will open presents in the parlor, but as Grandma, Mom and Governor she reserves the right to change her mind.
If you'd like to see the holiday lights at the Mansion the Governor says "come on over". There are regular tours, and the best part is they're free.
×
Most recent Utah stories