Estimated read time: 2-3 minutes
This archived news story is available only for your personal, non-commercial use. Information in the story may be outdated or superseded by additional information. Reading or replaying the story in its archived form does not constitute a republication of the story.
Sandra Yi ReportingThree Taylorsville teenagers, who were allegedly plotting a multi-state crime spree, were arrested after a police chase in California. Police say the teens' crime spree could have ended with murder.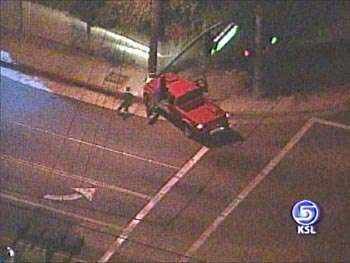 The teens stole a car and ran away on Monday. They were found carrying weapons in Long Beach, California last night. Despite that, One of the teens' uncles told KSL the story is being blown out of proportion and that his nephew is a good kid.
A 30-minute police chase ended with the three Taylorsville teens in custody. Two of the boys led authorities on a 30-minute chase that ended when the suspects' stolen car slammed into a power pole.
The uncle of the 16-year old gave his reaction today on KSL Radio's Doug Wright Show: "Obviously, we were saddened that something like this would happen."
The teens were reported missing on Monday and seen last night with a stolen vehicle near a sporting goods store in Long Beach, California.
Sgt. Paul LeBaron, Long Beach Police Dept.: "We do know that one of their intentions was to steal some guns or rob the sporting good store to get guns in order to facilitate their crime spree. And they had also intended on robbing other stores as needed to finance whatever their activities were."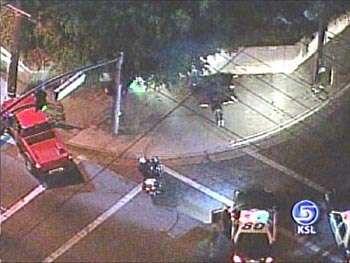 Authorities believe the teens were plotting a cross-country crime spree. They found weapons, including two guns, a sword and a knife in the vehicle. Police also found a two-way radio, a mask, a digital camera, a trench coat, what appeared to be crystal methamphetamine, and a marijuana pipe. The guns they had were reportedly taken from family members.
Investigators say one of the boys was angry because his parents had taken away his video game box. Police say the teens even talked about killing their parents.
Sgt. Paul LeBaron, Long Beach Police Dept.: "Many times, these horrific actions start with threats and we hope that these kids never had any intention of doing that. But at the same time, we don't have the luxury of standing by and hoping."
On the Doug Wright Show this morning, the mother of one of boys said her son has never been violent. She says video games may have warped his sense of reality. "It creates in their mind, power, because, like you say, they're interactive. They can be a part of and nobody gets hurt."
The teens were booked on weapons charges, attempted robbery and auto theft. Police say it's important to note the charges do not reflect any terrorist threats or conspiracy to commit murder.
×
Most recent Utah stories