Estimated read time: 2-3 minutes
This archived news story is available only for your personal, non-commercial use. Information in the story may be outdated or superseded by additional information. Reading or replaying the story in its archived form does not constitute a republication of the story.
Sam Penrod ReportingA high-speed chase ended in the arrest of two suspects who forced highway patrol troopers to reach speeds of more than 100 miles per hour. The chase started on the streets of downtown Salt Lake, moved onto the freeway and didn't end until the suspects' tires were blown out in Utah County.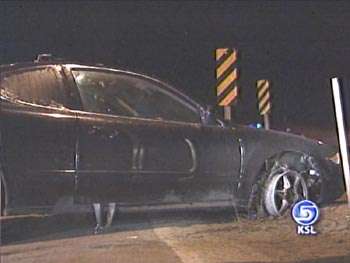 The chase happened while most of us were asleep, around 1:30 this morning. Still, the high speeds reached in the pursuit, along with the use of road spikes, made the chase frightening at times.
It was on 500 South and 300 West that a Utah Highway Patrol trooper tried to stop the car for an illegal lane change and expired registration. But the car took off, got onto southbound I-15 and by the spaghetti bowl was speeding away at more than 100 miles per hour.
Troopers tried to deploy road spikes near 53rd South. The suspect escaped, but a trooper's car and a semi-truck both suffered a blowout. The suspect continued south, still traveling at speeds of 100 miles per hour.
Troopers went down the road to prepare again near point of the mountain to stop the fleeing suspect. Moments later the car's tires blew out. Heavy smoke was visible coming from the cars' front tires. Still the suspect kept driving, now at less than 20 miles per hour, unwilling to give up until he lost control of his car.
Sgt. Martin Turner, Utah Highway Patrol: "He slid through the intersection and came to a rest here in the mud across from the intersection."
More than a dozen police officers arrived at the scene within seconds and the two men inside were arrested. Troopers say despite the high speeds they believe the chase was conducted safely.
Sgt. Martin Turner: "Traffic was light. The roadway was open for us. It wasn't a situation of a lot of stress with a large amount of traffic. The officer did an exceptional job of maintaining his composure and calling the pursuit out."
Both men in the car, ages 25 and 23, were arrested on charges of felony fleeing and driving under the influence of alcohol.
×
Most recent Utah stories