Estimated read time: 4-5 minutes
This archived news story is available only for your personal, non-commercial use. Information in the story may be outdated or superseded by additional information. Reading or replaying the story in its archived form does not constitute a republication of the story.
SALT LAKE CITY (AP) -- Prosecutors wrapped up their bribery case Thursday against this city's two Olympic bid leaders, who are accused of plying International Olympic Committee delegates with $1 million in cash, gifts and favors for the 2002 Winter Games.
The judge then excused jurors for the day and said he would hear arguments on a defense motion to dismiss case for lack of proof. Jurors were excused about 11:20 a.m. MST, and lawyers were expected back in court just before noon to begin arguments on the motion.
Lawyers on both sides said they expected arguments to take two or three hours Thursday afternoon, but it was uncertain how soon U.S. District Court Judge David Sam might rule.
Throughout the trial, Sam -- who tossed out the original charges against bid leaders Tom Welch and Dave Johnson before they were reinstated by an appeals court -- has repeatedly ruled against prosecutors on evidence and frequently shut down their lines of questioning.
Justice Department fraud prosecutor Richard Wiedis ended his case against bid chief Welch and his deputy Johnson after calling FBI agent Paul Bingham to go over charts summarizing payments and perks doled out to 15 of the IOC delegates and relatives -- including trips to Disneyland, stopovers in Paris hotels, tuition at U.S. schools and car repairs.
Most of these payments were booked to a bid campaign "assistance program" meant for impoverished athletes in developing countries, Bingham testified. Others were booked to an "outbound" travel account meant for bid staffers' airfare.
Judge Sam cautioned the jury that Bingham's testimony was "not to be considered as new evidence in this case." He admitted the charts over objections from defense lawyers for Welch and Johnson, the two men charged with giving IOC members $1 million in inducements for the 2002 Winter Olympics.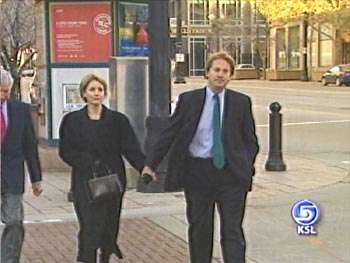 Johnson lawyer Max Wheeler challenged Bingham on whether he considered payments for IOC members' travel or employment stints for their relatives to be bribes. In almost every case Bingham asserted the payments, because they were made without any documentation showing a purpose, were bribes.
But in recent days the trial hasn't gone well for prosecutors, who've fought Sam and some of their own witnesses who disputed the bribery allegations.
Sam already threw out the charges once, but was overruled on appeal and forced to hold a trial in which he's dealt the prosecutors one setback after another, ruling against them on evidence, shutting down their lines of questioning and admonishing them for arguing with his bench rulings.
The Justice Department attorneys cut short their case after calling only 14 of their 43 declared witnesses since testimony began Oct. 31.
If Sam denies the defense motion, the trial could still be over soon. Defense lawyers have shortened their own witness list and believe they won't have to put on much of a rebuttal -- if they put on a defense at all.
Welch lawyer Bill Taylor said the government failed to prove its 15-count felony indictment charging bribery racketeering, fraud and conspiracy.
"That means they have to prove the defendants knew they were doing something bad -- and they have not proved that," said Taylor.
Justice Department trial attorneys Richard Wiedis and John Scott have maintained a stoic refusal to comment since the trial's beginning.
"Prosecutors may believe they've already done their best" and see no reason to belabor their case with redundant testimony "or they see this as a losing cause and why drag it out further," said Erik Luna, a University of Utah criminal law professor.
The prosecutors would be unable to appeal any decision from Sam to dismiss the case, unless the judge waits and overturns a jury verdict of guilty, Luna said.
The defendants' lawyers have used prosecution witnesses to argue the gift-giving among Olympic bid cities was so commonplace that Salt Lake had to match the best of them.
To fight fraud charges, the lawyers have had some success showing that board members knew -- or easily could have known -- what the bid executives were up to. The defendants always insisted they committed no crime, refusing to accept government plea offers before and after their July 2000 indictment.
"No, I don't think they were bribes," said Dick Pound, a Montreal lawyer and longtime IOC member who led his organization's inquiry into the Salt Lake bid scandal. His remarks came outside the federal courthouse after he testified Wednesday that the IOC kicked out seven delegates. Three others resigned over the scandal.
"They were payments, I think, to encourage good feelings about Salt Lake. You can second-guess them now," he said, but "clearly your prosecutors don't have enough information to tie the knot securely."
Under defense questioning, Pound acknowledged the IOC had trouble enforcing its own gift and travel rules and was aware of rumors of widespread violations, though Pound insisted it never had sufficient proof of any misdeeds until the Salt Lake bid scandal broke in late 1988.
Pound also acknowledged that IOC members had no legal duties or powers within the organization -- an important point for the defense, which is trying to show that implicated delegates had no power beyond their own votes to influence a decision.
(Copyright 2003 by The Associated Press. All Rights Reserved.)
×
Most recent Utah stories
More stories you may be interested in