Estimated read time: 2-3 minutes
This archived news story is available only for your personal, non-commercial use. Information in the story may be outdated or superseded by additional information. Reading or replaying the story in its archived form does not constitute a republication of the story.
John Daley ReportingJudge David Sam is weighing a big decision tonight, whether or not to throw out the charges against Tom Welch and Dave Johnson.
For the last five weeks, Justice Department prosecutors have made their 15-count case against the pair. Today defense attorneys asked the judge to dismiss.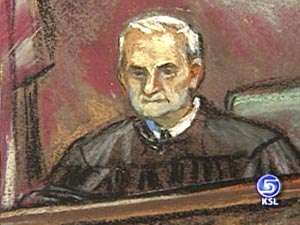 It's rare for a federal judge to throw out a case at this point in a trial. But defense attorneys say the government has no evidence to prove their case, and Judge Sam appears to be sympathetic to that argument.
Today Tom Welch, Dave Johnson and the defense team gave the clear impression they wouldn't be surprised if Judge David Sam put an end to their long court fight.
Tom Welch, Former SLOC President: "This whole process has been a gut-wrenching process."
The court case reached a dramatic climax as Judge David Sam heard arguments about Rule 29, a rarely granted request to dismiss all the charges for a lack of evidence. Defense attorneys Bill Taylor and Max Wheeler chopped away at the government's case saying the bid effort was a group of people committed to a cause, not for money, not for personal gain.
They said the case was about "business judgment", that there was no evidence they committed a crime or intended to, and no evidence as to the purpose of checks sent out by the bid committee. They argued even so-called victims, the bid committee board, didn't consider themselves victims, or consider the money lavished on IOC members to be bribes.
Next prosecutor Richard Wiedis roared back, saying a million dollars went to "buy off" IOC members. The payments were concealed under a program intended for athletes, but that IOC members got 90% of NOC money, athletes just 10%.
He asked if the pair were running an honest campaign, then why did Welch and Johnson accept 130-thousand dollars in cash in envelopes at airports and hotels that never were recorded on the books? To dismiss, he said, would deprive a jury from making a statement that "Olympic corruption must be stopped."
Asked about this case sending a message about Olympic corruption, Welch's attorney said, "Well you don't do that by prosecuting innocent people." And Johnson's attorney said all the payments to IOC members proved nothing. "They just show that it's very expensive to run a bid and that we were spending about half of what our competitors were spending."
One perhaps telling moment today in court was when defense attorneys said even the prosecutors in their heart of hearts don't believe they have evidence to prove this. Over laughter in the courtroom Judge David Sam said that's assuming they have hearts.
×
Most recent Utah stories