Estimated read time: 2-3 minutes
This archived news story is available only for your personal, non-commercial use. Information in the story may be outdated or superseded by additional information. Reading or replaying the story in its archived form does not constitute a republication of the story.
John Hollenhorst ReportingIf you've noticed high beef prices in the supermarket lately, you're not alone. One steak-house owner calls it "The Perfect Storm", with various forces pushing beef prices sky high. But it's a storm with losers and winners.
At the annual Cattlemen's Classic bull sale last night there was spirited bidding, high-priced beef-on-the-hoof and happy ranchers.
Richard Zitting, Quail Creek Ranch: "The price of beef is really good. It's the best it's been probably forever."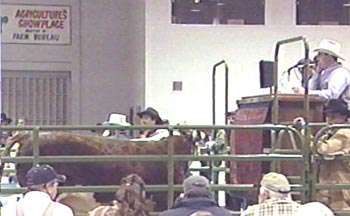 In fact, prices are "higher than anyone ever imagined" according to a top cattleman. And at the retail-wholesale level, beef prices for consumers shot up to new peak three or four weeks ago.
Rand Pace, Palace Meat Company: "It was a shocker, highest in history. Historically high beef prices."
If you want reasons for the increase, you can take your pick. The Atkins diet is making beef more popular. The Canadian mad-cow scare has reduced imports. The Japanese are buying more. And the long drought has forced a reduction in the cattle supply.
Randy Sessions, Morgan Cattle Owner: "The drought had a lot of influence, the fact that cattle numbers are down."
For ranchers it's payback time after years of economic battering from the drought.
Randy Sessions, Morgan Cattle Owner: "We're just playing catch-up actually is what we're doing."
But for those who deal with the meat-buying public, these are rough times. Rand Pace of Palace Meat Company got an earful from consumers. "We did have prices going up radically, a dollar a day, and even as much as changing every hour, too, for awhile. Now it seems to have plateaued. I think there has been some resistance from the consumer, and that's what needed to happen to slow that changing price."
As we head into the holiday eating season, some are predicting the prices will go even higher. At last night's auction, a prize bull sold for $6,750. That's an all-time record for the Utah Cattlemen's Classic.
×
Most recent Utah stories