Estimated read time: 2-3 minutes
This archived news story is available only for your personal, non-commercial use. Information in the story may be outdated or superseded by additional information. Reading or replaying the story in its archived form does not constitute a republication of the story.
Richard Piatt ReportingThe city of Draper is planning a grand opening for a new city hall Saturday. The multi-million dollar building will be the third new facility to open for the city in the last month, each building an indicator of how quickly the city is growing.
There was a time when the town was known as the 'egg basket' of Utah. A lot's changed since then, even in the last few years. Some remember what things were like before farmland sprouted into neighborhoods.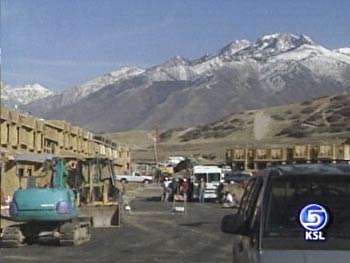 Paul Smith, Draper Historical Society: "We grew up with all that change gradually through the years. And you really don't notice it so much. But it's changed drastically."
Lynn Ballard, Draper Historical Society: "When I look up at these mountains, that was the only place I ever hunted deer in all my years. And now, there's no access."
In the last 13 years Draper's population has more than quadrupled, from about 5300 in 1990, to about 30,000 today. 10,000 people moved there in 2002 alone.
Population demands have prompted construction of a new public works building worth 2.2 million dollars. A fire station, built for $1.7 million, serves new South Mountain neighborhoods. And the new 5.3 million dollar city hall combined all city services in one 46,000 square foot building.
Darrell Smith, Draper Mayor: "We now have our own police department. We'll have a court here in draper. We plan on incorporating them into the building later on."
Construction keeps booming in Draper where the average home price is 250-thousand dollars. The city has to deal with everything growth brings, from infrastructure to traffic demands.
Eric Keck, Draper City Manger: "It's a constant struggle to meet the needs of growth, private property rights, while trying to maintain the quality of living to provide to the residents."
The mountains to the east may be a constant fixture, but the things that used to be---pastures, horses, farm machinery--are disappearing fast.
Like many growing communities, it is ironic that the same things that attract people to draper--that wild feeling, the wide open spaces--are disappearing fast. Here at least there is still enough of it left to make this place attractive to a growing number of people into the future.
×
Most recent Utah stories