Estimated read time: 2-3 minutes
This archived news story is available only for your personal, non-commercial use. Information in the story may be outdated or superseded by additional information. Reading or replaying the story in its archived form does not constitute a republication of the story.
Jed Boal ReportingA high-speed chase ended in Murray where two men were caught after police say they robbed a tanning salon and assaulted a young female clerk.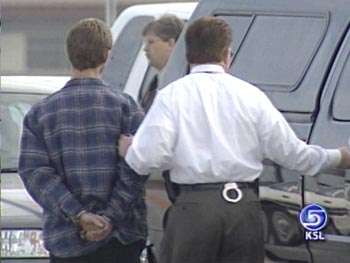 Police are glad the chase ended when it did, where it did. The suspects were speeding on busy streets until they pulled in near the Murray Trax station.
Deputies spotted the red Dodge Neon this afternoon at 39th South 7th East; the car matched one used in a morning robbery. The suspects took off, police chased several miles, cornered the car and cut it off. They collared one man in the car and chased down the other on foot.
Workers at the Fort Union tanning salon were thrilled with the news. Michelle Muir was working the counter at 8:00 a.m. when a guy in a ski mask walked in. She was more mad than scared and kept her cool.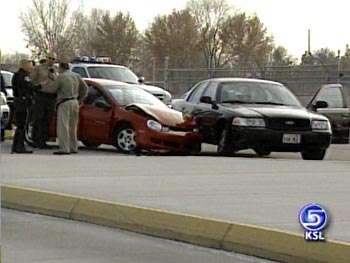 Michelle Muir, Electric Beach: "I was sitting at the front desk and you can't see anything because you have these pillars right here. They just got out and wanted the money and that's all. You do give them the money. That's it, I didn't say anything. I just made sure I noticed what the car looked like."
She described the robbers and the car all the way down to the custom wheels and tires. That's what caught the cops' attention on the street.
Michelle Muir: "I guess you can describe so many cars out there. When I found out they were caught I was surprised, like arrr, yeh."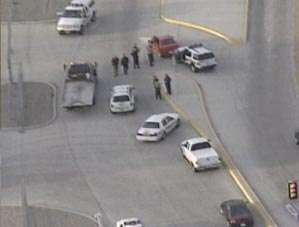 The sheriff's commander on the chase nearly called it off; it was getting dangerous in traffic.
Dep. Peggy Faulkner, Salt Lake County Sheriff's Office: "Once they realized he had them in this parking area and there wasn't anywhere for them to go, he let them continue and they were able to stop them."
Both suspects are being booked into jail on charges of armed robbery, possession of a stolen vehicle, and running from police. The workers at the salon are glad they can put this experience behind them.
×
Most recent Utah stories