Estimated read time: 2-3 minutes
This archived news story is available only for your personal, non-commercial use. Information in the story may be outdated or superseded by additional information. Reading or replaying the story in its archived form does not constitute a republication of the story.
John Daley ReportingA stunning decision in federal court brings an end to the Olympic bribery trial. Judge Sam ruled that Justice Department prosecutors had shown "insufficient evidence" to prove their case and threw it out.
The final chapter in Utah's long and winding Olympic story was written today. Tom Welch and Dave Johnson, the men who brought the Games to Utah, now will face no criminal penalty for the way it was done. Definitely a dramatic conclusion to this story and they say a vindication.
There's often been a bit of a carnival atmosphere about Utah's Olympic experience and today was no different. On his way into court Tom Welch--ever the showman--stopped to autograph a CD of the unofficial song of the Olympic scandal. He seemed confident--it turns out with good reason.
Once inside federal judge David Sam delivered one final, extraordinary devastating blow to the government's case, ordering a "judgment of acquittal"--a complete dismissal of all the charges.
Sam had already dismissed the case once only to be overruled by the appeals court.
All along he barely concealed his contempt for the government attorneys and what he called their "misplaced prosecution." His language brutally spelled it out saying, "In all my 40 years experience with the criminal justice system--as an attorney and a judge--I have never seen a criminal case brought to trial so devoid of criminal intent or evil purpose."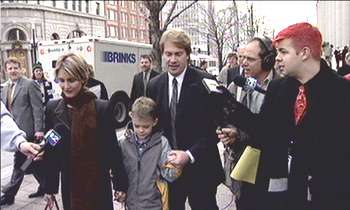 Later he said: "Enough is enough", stating he'd "be interested in knowing how much taxpayers' money was spent investigating and prosecuting Welch and Johnson."
The defendants had turned down an 11th hour misdemeanor tax charge plea bargain. Afterwards they reacted predictably like men who were looking jail time in the eye and then set free.
Tom Welch, Former Olympic Defendant: "Last night was probably the longest life of my life and that five minutes before the judge the sweetest."
Dave Johnson, Former Olympic Defendant: "Tough road, tough road. We worked hard. It was hard to get the Olympics here and it was hard not to be a part of them when they were here."
Prosecutors offered no comment, but the Justice Department issued a statement, "In our view the evidence that the jury was permitted to hear was more than sufficient for the case to go to verdict."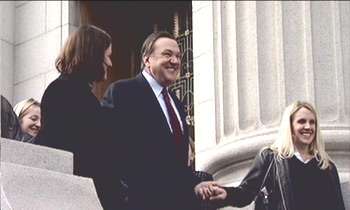 Over nearly six years the defense team has assembled countless documents and conducted hundreds of interviews and records kept their war room. Welch and Johnson's attorneys say the case would have never happened but for a damage control campaign organized by community leaders, including Governor Mike Leavitt, which pinned the scandal on two men alone.
Max Wheeler, Attorney for Dave Johnson: "This case was the direct result of the way people, the power brokers in this state decided to do damage control."
The judge's ruling is final and there is no option for appeal for the government. So that's it, it's over.
×
Most recent Utah stories